Homeland Security Officials Say They Aren't Building a National Database; They Just Want to Track Everyone's License Plates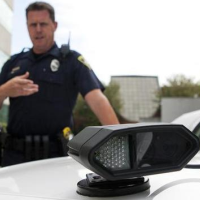 (photo: Justin L. Fowler, AP)
The Department of Homeland Security (DHS) is making another run at connecting to a database containing the location of most of the drivers in the United States.
DHS is seeking bids from companies that can connect it to a system of nationwide license plate readers. Such information would give the agency a pretty good idea of where most cars, and thus most drivers, are at any given time.
Private companies and some law enforcement agencies have readers in stationary locations and mounted in vehicles all over the country. By collecting information on all the places a license plate has been spotted, a person's movements can be tracked. The largest commercial database is owned by Vigilant Solutions and as of last fall, the company had more than 2.5 billion records and its database was growing by 2.7 million records a day, according to Ellen Nakashima of The Washington Post.
The department first tried to get such a contract last year for Immigration and Customs Enforcement (ICE) to track undocumented immigrants suspected of crimes. But after concerns that the information gleaned from the system would be used to find the whereabouts of innocent citizens as well, DHS Secretary Jeh Johnson canceled the plan. Now it's back, but supposedly with more privacy protections built in.
ICE would need no warrant to access the system and would be able to put license numbers on "alert lists" that would notify the agency anytime that plate was spotted. DHS says ICE would have access to data only for the length of the statute of limitations on a given crime, according to a report in the Post. For civil immigration issues, which have no statute of limitations, the limit would be five years. Officers would have to enter a specific crime to access the database and there would be audits to determine whether the database was being misused.
Some privacy advocates aren't impressed, however. "If this goes forward, DHS will have warrantless access to location information going back at least five years about virtually every adult driver in the U.S., and sometimes to their image as well," Gregory T. Nojeim, senior counsel for the Center for Democracy & Technology, told the Post.
-Steve Straehley
To Learn More:
A Year After Firestorm, DHS Wants Access to License-Plate Tracking System (by Ellen Nakashima, Washington Post)
Access to License Plate Reader Commercial Data Service (General Services Administration)
Why is the DEA Conducting Mass License Plate Tracking and Why was it Allowed to Conduct Mass Surveillance of Americans' Phones Records? (by Noel Brinkerhoff and Danny Biederman, AllGov)
Judge Lets LAPD Hide License Plate Reader Data from Public (by Ken Broder, AllGov California)
Homeland Security Cancels Plan to Track License Plates Nationwide (by Noel Brinkerhoff, AllGov)