Highest Use of Force by Border Patrol Occurs in Most Remote Border Areas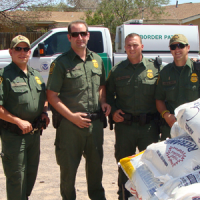 Border Patrol agents at Big Bend Sector (photo: Border Patrol)
By Alicia A. Caldwell, Associated Press
WASHINGTON (AP) — Border Patrol agents in two of the most remote and least busy sectors along the Mexican border reported using some types of force more often than many of their colleagues in more urban areas, according to statistics released Thursday by the Homeland Security Department.
Agents in the Big Bend Sector, a sprawling part of West Texas that includes Big Bend National Park, used guns five times during the 2015 fiscal year that ended in September. Only agents in San Diego reported using guns more often — six times.
In the sector of El Centro, California, a span of desert in eastern California, agents reported 68 instances of force during the same period, though none reported firing their weapons.
Customs and Border Protection, the DHS agency that includes the Border Patrol, released the use-of-force data by sectors for the first time. Previously the agency had only provided the total number of reported incidents for the entire agency.
El Centro agents also reported 65 uses of forces since between Oct. 1 and Feb. 29, the most of any sector so far this fiscal year.
CBP did not release details of the use of force incidents but said the data represented each time an agent used force, though not individuals incidents. "Force" includes firing a weapon and less-than-lethal or other means.
It was unclear from the statistics what prompted the volume of force reports in El Centro and Big Bend.
In January 2015 two agents opened fire on a driver who fled a Big Bend sector highway checkpoint near the town of Sierra Blanca, Texas. The driver was killed and agents reported finding a pellet gun that looked like a pistol in the vehicle.
Asked about the high number of incidents in El Centro, CBP Commissioner R. Gil Kerlikowske said numbers fluctuate from month to month and could hinge on the number of arrests and agents.
"El Centro's had some issues with some fairly violent people. It's not like the kids come across," Kerlikowske said in San Diego.
In a statement, the Border Patrol said that terrain and entry routes often affect how its agents carry out operations and how they employ varying levels of force. As an example, the agency said its agents in the El Centro Sector often encounter gang members or people with criminal records who are not motivated to surrender when ordered. Some people also are told, falsely, that agents will not attempt an arrest in the El Centro Sector, the Border Patrol said.
Overall, the Border Patrol data released Thursday shows that uses of physical force by Border Patrol agents and border inspectors have been declining in the past 17 months.
Between October 2014 and September 2015, CBP reported 768 uses of force, a drop of about 26 percent from the 1,037 incidents the previous year and down about 37 percent from the 1,215 incidents in 2013. The new statistics do not include details about the incidents or whether they were ruled justified under the agency's policies.
Civil rights groups have complained that agents are too quick to use force, particularly when responding to people throwing rocks.
The complaints prompted CBP to review its own files and commission an outside investigation in 2014. The audit by the Police Executive Research Forum highlighted problems, including allegations that some agents were suspected of putting themselves in the path of assailants in fleeing vehicles before firing guns.
Following those reviews Kerlikowske revised the agency's use of force policies. The audits also led to a proposal that border agents wear body-mounted cameras.
CBP announced Thursday that it is asking the private sector for suggestions on camera systems that could be worn or mounted to patrol cars. It marks a minor step forward in a continuing review by the agency to decide if Border Patrol agents and Customs officers should wear body cameras.
Late last year, the agency announced it was holding off on deploying cameras to agents and officers, saying the idea needed more study despite a yearlong review. President Barack Obama's 2017 budget proposal included a request for $5 million to help the agency move forward on cameras testing.
Agency staff said in an August report that cameras could be a deterrent to frivolous complaints against agents, make use of force less likely, and provide evidence for criminal prosecutions. But the review also found that the cameras tested were unsuited for the rugged, remote areas where most Border Patrol agents work.
Associated Press writer Elliot Spagat in San Diego contributed to this report.
To Learn More:
Tasers Became Weapon for Use of Excessive Force by Border Patrol (by Noel Brinkerhoff and Steve Straehley, AllGov)
Border Patrol Used Dubious Tactics to Create Pretext to Justify Shootings; CBP Tried to Bury Scathing Report (by Noel Brinkerhoff, AllGov)
Few Consequences for Border Patrol Agents Using Deadly Force (by Noel Brinkerhoff, AllGov)