Border Patrol Used Dubious Tactics to Create Pretext to Justify Shootings; CBP Tried to Bury Scathing Report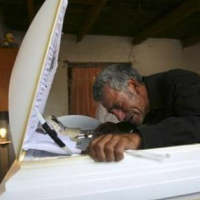 Father at casket of Mexican teenager killed by U.S. border patrol (photo: Alejandro Bringas, Reuters)
The U.S. Customs and Border Protection (CBP) attempted to conceal a report critical of Border Patrol shootings along the Mexican border in which agents used questionable tactics to justify their use of deadly force.
Commissioned by the CBP, which oversees the Border Patrol, the report criticized agents for intentionally standing in front of speeding automobiles to justify shooting at drivers.
"It is suspected that in many vehicle shooting cases, the subject driver was attempting to flee from the agents who intentionally put themselves into the exit path of the vehicle, thereby exposing themselves to additional risk and creating justification for the use of deadly force," the report reads, according to the Los Angeles Times, which obtained a copy. In some cases, "passengers were struck by agents' gunfire."
The report also questioned the Border Patrol policy of allowing the use of deadly force against individuals who throw rocks or other objects at agents.
In addition, the agency was accused of a "lack of diligence" in investigating agents who had fired their weapons and not consistently reviewing shootings in a thorough manner.
The report—based on a review of 67 shootings from 2010 to 2012, which resulted in 19 deaths—was conducted by the Police Executive Research Forum, a nonprofit research and policy organization in Washington that works closely with law enforcement agencies.
Border Patrol officials sat on the report, which was completed in February 2013. When members of Congress requested copies of the investigation last fall, the CBP turned over a censored summary that left out discussion of vehicle-related and rock-throwing shootings.
The report's authors recommended that the agency prohibit agents from opening fire at cars unless its occupants are trying to kill them, and that it ban the use of deadly force against people who throw objects at agents.
The Border Patrol rejected both recommendations in a lengthy response to the report. Officials contended that a ban on shooting rock throwers "could create a more dangerous environment" because agents operate "in rural or desolate areas, often alone, where concealment, cover and egress is not an option."
They also argued that agents must be allowed to shoot at automobiles, otherwise drug smugglers could become more aggressive in trying to kill agents.
Critics of the Border Patrol say something must be done to reduce the number of unjustified shootings by agents along the border.
"There needs to be a level of accountability if you want to change the culture and the pattern," Christopher Wilson, an expert on U.S.- Mexico relations at the Woodrow Wilson Center, a government-funded think tank in Washington, told the Times. "People are being killed that don't need to be killed."
The lack of thorough investigations into the shootings "promotes an unchecked culture of violence," American Friends Service Committee's Pedro Rios told the San Diego Union-Tribune. "It is shocking to find out that agents in the largest law enforcement agency in the country deliberately placed themselves in harm's way to justify lethal force. The [Obama] administration has an obligation to release to the full report in order to rein in what has been an out-of-control Border Patrol that is acting with impunity."
-Noel Brinkerhoff
To Learn More:
Border Patrol's Use of Deadly Force Criticized in Report (by Brian Bennett, Los Angeles Times)
Report: Border Agents Unnecessarily Shot at Rock Throwers (by Hieu Tran Phan, San Diego Union-Tribune)
Homeland Security Dept. Censors Internal Report on Border Patrol Shootings (by Noel Brinkerhoff, AllGov)
Few Consequences for Border Patrol Agents Using Deadly Force (by Noel Brinkerhoff, AllGov)
Border Patrol Rejects Government-Commissioned Advice to Stop Shooting Rock Throwers (by Noel Brinkerhoff, AllGov)