FBI Accused of Trying to Turn Defense Security Officer into Spy in 9/11 Military Hearing Case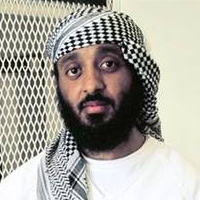 Ramzi bin al Shibh
The military trial of five Guantánamo detainees accused of helping carry out the 9/11 attacks has come to an abrupt halt following allegations that federal agents tried to turn a defense team member into a spy for the government.
Defense lawyers for one of the detainees, Ramzi bin al Shibh, told the presiding judge on Monday that two Federal Bureau of Investigation (FBI) agents approached a defense security officer for the purpose of enlisting him as a government informant.
The FBI was apparently trying to determine who leaked the writings of detainee Khalid Sheik Mohammed, the accused 9/11 mastermind, which were published by the Huffington Post and Britain's Channel 4 website in January.
Attorney Jim Harrington, who is representing bin al Shibh, told the court that agents showed up at the home of his team's defense security officer, whose identity was not revealed. The Miami Herald reported that the officer worked for SRA International, a government contractor.
Harrington said the FBI questioned the officer about possible wrongdoing by defense attorneys and convinced him to sign an agreement that would have him feed information to the bureau.
Each defense team has an officer whose job is to keep classified information from being revealed in court filings. Those officers are privy to defense strategy. The officer who was approached by the FBI was suspended from working with Harrington's defense team following the revelations.
Harrington told the judge, Army Colonel James L. Pohl, that the incident might have compromised attorney-client confidentiality. He asked that Pohl conduct an inquiry into whether the FBI's actions have had a "chilling effect" on defense lawyers' ability to effectively represent their clients.
The FBI did not publicly respond to the allegations.
This isn't the first time there have been concerns about government interference in the defense of 9/11 suspects. Earlier it was revealed that the rooms where defense attorneys meet with their clients have microphones. Officials claim the microphones are turned off when attorneys meet with their clients.
-Noel Brinkerhoff
To Learn More:
Accusation of FBI Spying Stalls 9/11 Hearing (by Carol Rosenberg, Miami Herald)
FBI Asked to Testify at Gitmo Over Spying Charge (by Adam Kredo, Washington Free Beacon)
9/11 Suspects Can't Mention being Tortured during Trial Testimony because Their Torture is Classified (by Matt Bewig, AllGov)
Guantánamo Defendants' Private Conversations with Lawyers Could Have Been Monitored via Hidden Microphones (by Noel Brinkerhoff, AllGov)
When CIA Destroyed Interrogation Tapes, They Missed One Set (by Noel Brinkerhoff, AllGov)