Guantánamo Defense Lawyers Ask for Access to 14,000 CIA Photos of Secret Prisons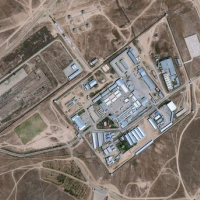 Aerial view of Salt Pit detention facility, Afghanistan (photo: DigitalGlobe/ScapeWare3d/Getty Images)
Attorneys representing terrorism suspects at Guantánamo Bay have asked judges overseeing the military tribunals for their clients to see an enormous cache of photographs taken of "black sites" operated by the Central Intelligence Agency (CIA).
The images, which total about 14,000, show both the interiors and exteriors of CIA secret locations where detainees were held and interrogated last decade. The photographs reportedly do not show detainee interrogations, "including the torture of some suspects who were subjected to waterboarding and other brutal techniques," according to The Washington Post. But they do include images of detainee cells, bathrooms, naked prisoners at the time of transport, confinement boxes that held detainees for hours at a time, and a waterboard in the "Salt Pit," the largest CIA detention facility in Afghanistan.
Also said to be depicted in the photographs are members of the CIA and foreign intelligence services, along with such controversial advisers and architects of the detainee interrogation program as psychologists James Mitchell and Bruce Jessen. Defense lawyers will probably want to identify such potential witnesses, while the government is expected to claim that doing so could pose a threat to their safety, according to the Post.
The pictures—which depict the CIA black sites in Thailand, Afghanistan, Poland, Romania and Lithuania—had been taken for budgetary purposes, to serve as proof of how funds were being spent, according to one U.S. official who spoke to the newspaper.
Defense lawyers aren't pleased that the existence of the photos came to light more than three years after the arraignment of the defendants. Defense teams are supposed to have the same access to evidence as prosecutors and Senate investigators, which has caused detainees' lawyers to question how forthcoming the CIA has been with providing material.
"It raises the question whether the agency is being cooperative with the prosecutors," defense attorney James Harrington told the Post. "It's beyond preposterous."
Although the new development will delay the trial even further, attorneys are anxious to review the photographs in case they can help their clients' cases.
"If the government does provide these photos to the defense — which is still an 'if' at this point — it would be better late than never," Air Force Captain Michael Schwartz, a military attorney for Waleed bin Attash, one of the five defendants in the 9/11 military commission, told the newspaper.
"If pictures from black sites exist, they are crime scene photographs," defense attorney James Connell told the Post. "The military commission rules require the prosecution to turn them over to the defense, but federal and international prosecutors should also get a copy — not to mention the public."
-Danny Biederman, Noel Brinkerhoff
To Learn More:
CIA Photos of 'Black Sites' Could Complicate Guantanamo Trials (by Adam Goldman, Washington Post)
Detainee Alleges CIA Sexual Abuse, Torture Beyond Senate Findings (by David Rohde, Reuters)
7 Years of Secret Court Proceedings: Why is Federal Judge Stalling Justice? (by Noel Brinkerhoff and Steve Straehley, AllGov)
Guantánamo Hearing Suspended when Defendants Claim Court Translator Previously Worked at CIA Torture Site (by Noel Brinkerhoff, AllGov)
9/11 Suspects Can't Mention being Tortured during Trial Testimony because Their Torture is Classified (by Matt Bewig, AllGov)