7 Years of Secret Court Proceedings: Why is Federal Judge Stalling Justice?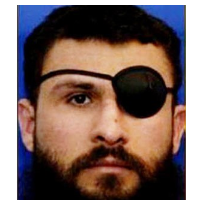 Abu Zubaydah
Guantanamo detainee Abu Zubaydah has waited nearly seven years for a federal judge to do anything with his case, leaving the Saudi citizen in legal limbo—which is just where the U.S. government wants him, apparently.
Since a U.S. Supreme Court ruling in 2008, detainees at Guantanamo have had the right to challenge their imprisonment. Zubaydah has tried to do just that, with his lawyers filing 13 motions with Judge Richard W. Roberts. But the Clinton-appointed judge who on average takes about two years to resolve his cases has let Zubaydah's lay idle for six years, nine months and change.
And no one really knows why, according to ProPublica. Or at least no one outside the Central Intelligence Agency.
"Because the entire file has been kept secret, it's not possible to know why Roberts, who is the chief judge of the D.C. circuit, has let Zubaydah's case languish," Raymond Bonner reported. "But this much is clear: Keeping Zubaydah from telling his story is exactly what the CIA wanted from the moment it began to torture him.

According to a CIA cable, the tortured and waterboarded Zubaydah is supposed to "remain in isolation and incommunicado for the remainder of his life."
Zubaydah's lawyers even took the rare step earlier this year of asking the judge to recuse himself for "nonfeasance," that is, failing to act. "We don't take this step lightly," Joseph Margulies, one of Zubaydah's lawyers, told ProPublica. Margulies, who has represented several Guantanamo detainees and is a professor at Cornell University School of Law, added, "I have never seen a case in which there has been this much judicial inaction. There has to be a remedy."
Zubaydah was captured by the CIA in 2002 and tortured in Pakistan, Thailand and Poland before being moved to Guantanamo in 2006. Poland even paid Zubaydah 100,000 euros after the European court of human rights ruled that Poland had helped subject Zubaydah to "inhuman and degrading treatment." Zubaydah has said he'll give the money to other victims of torture.
-Noel Brinkerhoff, Steve Straehley
To Learn More:
'Incommunicado' Forever: Gitmo Detainee's Case Stalled For 2,477 Days And Counting (by Raymond Bonner, ProPublica)
Senate Committee Accused of Failing to Interview Men Tortured by CIA for its Torture Report (by Noel Brinkerhoff, AllGov)
Who Removed Terrorism Suspect Abu Zubaydah's Eye and Why? (by Noel Brinkerhoff and David Wallechinsky, AllGov)
Abu Zubaydah, the High-Value Terrorist Who Wasn't (by Noel Brinkerhoff, AllGov)