Fracking Company in Pennsylvania Offers Residents $50,000 Each to Promise not to Sue about Anything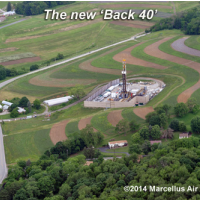 EQT fracking site in Finleyville, Pennsylvanis (photo: Marcellus Air)
With litigation beginning to mount against fracking companies, one driller in Pennsylvania has tried to preempt lawsuits by paying off residents living near its operations.
EQT Corporation, which operates a fracking well near Finleyville in Washington County, has offered $50,000 to those willing to sign a comprehensive no-liability waiver that prevents them from ever suing the company for any problem stemming from the drilling.
The agreement, which at least four residents have signed in exchange for the money, covers "current operations as well as those to be carried out in the future," ProPublica says.
It covers "potential health problems and property damage," and gives "the company blanket protection from any kind of claim over noise, dust, light, smoke, odors, fumes, soot, air pollution or vibrations," ProPublica's Naveena Sadasivam reported. The deal also applies to work beyond the actual fracking, such as the building and maintenance of pipelines, tanks, ponds, pits and other developments connected to or in support of drill sites.
Doug Clark, a Pennsylvania lawyer who specializes in gas leases and representing landowners, called the legal waiver "crazy."
"The release is so incredibly broad and such a laundry list," he told ProPublica. "You're releasing for everything including activity that hasn't even occurred yet."
The legal agreement, typically referred to as a "nuisance easement," is commonly used near airports, wind farms and landfills to compensate residents for noise, vibrations, fumes and other disturbances. However, its use by the oil and gas industry is highly unusual, according to experts. "They're absolutely not common at all," said Clark. "This is only the second time I've seen one."
EQT, which is one of the largest natural gas producers in the state, initially tried to get at least 30 Finleyville residents to sign the agreements, with the understanding that the money would only be paid out if all the local landowners came onboard. When many of them balked at this provision, the company adjusted its approach and targeted them one by one.
Clark suggested that the industry might be cautious about employing these contracts on a regular basis because it could raise red flags in the eyes of the public. "People are going to say the gas companies must be concerned about air pollution because they're offering these easements," Clark told ProPublica. "Everybody's going to get suspicious."
Some residents who refused EQT's offer are angry about the company's pitch. "I was insulted," Finleyville resident Gary Baumgardner told ProPublica. "We're being pushed out of our home and they want to insult us with this offer." He said his house is "most often not livable," because of vibrating from the drilling, and his family has been forced to leave numerous times due to the intensity of the fumes. His pregnant daughter moved away on the advice of her doctor.
-Noel Brinkerhoff, Danny Biederman
To Learn More:
Aggressive Tactic on the Fracking Front (by Naveena Sadasivam, ProPublica)
Natural Gas Industry Hires Politicians' Relatives (by Noel Brinkerhoff and Danny Biederman, AllGov)
Pennsylvania Health Dept. Accused of Ordering Employees to not Speak to Residents who Complained about Fracking (by Steve Straehley, AllGov)
Chevron Offered Free Pizza to Help Make Up for its Fracking Well Explosion in Pennsylvania Town (by Noel Brinkerhoff, AllGov)