Pennsylvania Health Dept. Accused of Ordering Employees to not Speak to Residents who Complained about Fracking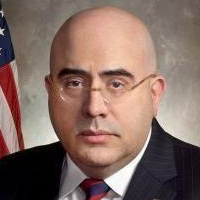 Dr. Eli Avila
Two retired employees of the Pennsylvania Department of Health say they were muzzled by their managers on the subject of fracking.
Nurse Tammy Stuck and program specialist Marshall P. Deasy III say they were given orders not to talk to concerned citizens who called the department with questions about fracking. Deasy also said that after a consultant addressed the practice at a community meeting, department employees were restricted from speaking to such groups, according to a report by StateImpact Pennsylvania.
Fracking, or hydraulic fracturing, is a drilling technique wherein fluid is injected into wells to facilitate the removal of oil and gas. The used fluid, often toxic, is then reinjected into the ground. More than 6,000 natural gas fracking wells have been drilled into Pennsylvania's Marcellus Shale, which covers the northern and western parts of the state, over the past six years.
Stuck said she was given a list of words to watch for by her supervisor. "There was a list of buzzwords we had gotten," Stuck said. "There were some obvious ones like fracking, gas, soil contamination. There were probably 15 to 20 words and short phrases that were on this list. If anybody from the public called in and that was part of the conversation, we were not allowed to talk to them."
Employees were told only to take the caller's information and forward it to a supervisor, who would address the issue, according to Stuck, who said that she would often speak to those whose calls had not been returned.
Department spokesperson Aimee Tysarczyk said employees were not told not to return citizens' calls and that all complaints should be forwarded to the Bureau of Epidemiology. She also said that there was no requirement that department employees get advance special permission to speak to community groups, as Deasy and Stuck charge.
Those living near drilling sites have reported nosebleeds, nausea, rashes and other issues, but doctors say they don't have the data to connect those ailments to fracking.
Eli Avila, who was the state health secretary during the period Stuck and Deasy say the orders not to talk about fracking were given, said he wasn't aware of the policy, but that one of the deputy secretaries could have given the instruction without his knowledge. Avila resigned in October 2012. He is best known for an incident in which he accused a Harrisburg restaurant owner of serving him an egg salad sandwich made of eggs that were less than fresh. In April 2014 the state of Pennsylvania to pay $75,000 to settle the dispute.
-Steve Straehley
To Learn More:
Former State Health Employees Say They Were Silenced On Drilling (by Katie Colaneri, StateImpact Pennsylvania, NPR)
Texas Family Wins First Jury Award for Health Damages from Fracking (by Noel Brinkerhoff, AllGov)
Fracking Companies Buy Silence of Families with Contaminated Water (by Noel Brinkerhoff, AllGov)