Chevron Offered Free Pizza to Help Make Up for its Fracking Well Explosion in Pennsylvania Town
Thursday, February 20, 2014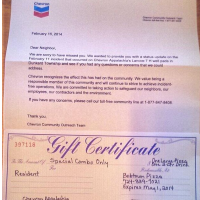 (photo: nofrackingway.us)
A fracking well owned by Chevron blew up last week near a rural Pennsylvania community, terrifying many local residents.
For their terror the people of Bobtown got a letter of apology from the billion-dollar oil giant—and a coupon for a free pizza.
But Chevron's generosity did not stop there.
The coupon also entitled recipients to a 2-liter bottle of soda.
"Chevron recognizes the effect this has had on the community," the letter states. "We value being a responsible member of this community and will continue to strive to achieve incident-free operations. We are committed to taking action to safeguard our neighbors, our employees, our contractors and the environment…"
The attempt at community-relations damage control did not go over well with locals and others who heard about it.
"How arrogant and stupid do they think people are?" Gloria Forouzan of Marcellus Protest, a Pittsburgh-based anti-fracking group, told Al Jazeera America. "What (fracking companies) are doing in terms of PR is insidious. They advertise, and they advertise heavily, and for that, (people) are basically willing to lie down and let the companies walk all over them."
Ron Smith, an author and public relations professor at State University of New York in Buffalo, said Chevron's bungled effort "is going to go in one of my textbooks as an example of how to screw up a crisis response."
The explosion injured one worker and left another one missing, presumed dead. The resulting well fire burned for five days before responders managed to extinguish it.
-Noel Brinkerhoff
To Learn More:
The Chevron Guarantee: Our Well Won't Explode...Or Your Pizza is Free! (Philadelphia Inquirer)
After Fracking Blast, Chevron Offers Pizza (by Peter Moskowitz, Al Jazeera America)
Chevron to Pennsylvania Town: Sorry We Murdered You with Fracking, Here's a Coupon for Pizza (by Doktor Zoom, Wonkette)
In Rare Move, Pennsylvania Prosecutes Exxon Subsidiary for Fracking Pollution (by Noel Brinkerhoff, AllGov)
Chevron Pays $350 Fine after Oil Worker Boiled to Death (by Noel Brinkerhoff, AllGov)