Florida Women's Health Services at Risk as Governor Cuts Funding to Clinics that Perform Abortions
Wednesday, March 30, 2016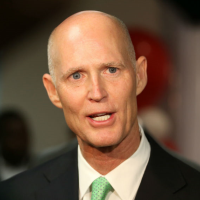 Gov. Rick Scott (photo: Getty Images)
By Liam Stack, New York Times
Gov. Rick Scott of Florida signed a law on Friday that cut state funding to clinics that perform abortions.
State funding of abortion was already prohibited in Florida, but the law signed by the Republican governor also cut off funding for preventive services at clinics that also provide abortions.
The law appeared to be aimed at Planned Parenthood, which said on Friday that it could mean the end of birth control, cancer screenings, tests for diseases and other services for thousands of low-income women in Florida.
The organization said in a statement that it serves more than 67,000 patients in Florida each year, and that many of them rely on public funding to pay for their health care.
Cecile Richards, the president of Planned Parenthood Federation of America, said in a statement that the new law seemed "designed to rip health care away from those most at risk."
Scott signed the law along with 67 other bills addressing a range of topics, from medical marijuana to the composition of a highway commission in Miami-Dade County.
But he did not specifically comment on the abortion law, which has been controversial. In a news release, his office tersely said it "revises regulations for licensed abortion clinics." The law also requires doctors who perform abortions to have admitting privileges at a nearby hospital or for the clinic to have a transfer agreement there.
In Alabama, a law requiring such privileges was struck down Friday by Judge Myron H. Thompson of U.S. District Court, who said it "unconstitutionally restricts the rights of women seeking abortions in Alabama." His decision comes three weeks after the Supreme Court heard oral argument in a case challenging similar restrictions in Texas.
The law, the Woman's Health and Safety Act, was passed in 2013, but the implementation of the new requirement on abortion providers was quickly blocked by the courts. Friday's decision struck down the law in its entirety. Thompson wrote in his opinion that the law's impact on access to abortion would "simply be enormous."
Its effect would be to "eliminate abortion services in approximately two-thirds of the state" by closing the only clinics in the state's three largest cities, which provide 40 percent of the state's procedures, he said.
He also wrote that the requirement to obtain admitting privileges would be complicated by "the hostile and pervasive anti-abortion sentiment" in Alabama, which would prevent some providers from meeting the new guideline.
To Learn More:
Republican Defunding Effort Spearheads State-by-State Assault on Planned Parenthood (by David Crary, Associated Press)
Florida Judges Put Abortion Waiting Period Law into Effect (by Brendan Farrington, Associated Press)
Texas Abortion Clinic Closures Likely Triggered Thousands of Attempted Self-Induced Abortions (by Noel Brinkerhoff and Danny Biederman, AllGov)
Last Few Alabama Abortion Clinics May Close under New State Law (by Noel Brinkerhoff, AllGov)