Texas Abortion Clinic Closures Likely Triggered Thousands of Attempted Self-Induced Abortions
Thursday, November 19, 2015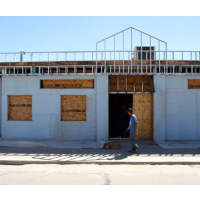 A shuttered abortion clinic in Texas (photo: Juan Carlos Llorca, AP/Corbis)
The closure of most of Texas' abortion clinics has likely contributed to thousands of women trying to end their pregnancies themselves, according to two surveys from the University of Texas.
The Texas Policy Evaluation Project estimated that between 100,000 and 240,000 Texas women aged 18-49 have attempted self-induced abortions, based on information collected from online surveys' representative sampling of 779 women.
In the surveys, women were asked if they had personally performed an abortion on themselves, or if they knew that a close friend had self-aborted a pregnancy. The survey results showed that 1.7% of those questioned had performed their own abortions, and 4.1% of the survey subjects said they either knew or suspected that a best friend had done so.
The surveys found that self-induced abortions were more common among women who had difficulty finding or getting to clinics that perform the procedure. Respondents cited the lack of such available services, resulting from the closure of clinics, as the reason for attempting the abortions on their own.
The drug Misoprostol (brand name Cytotec) was the most common method reportedly used by women. Other methods included "herbs or homeopathic remedies, getting hit or punched in the abdomen, using alcohol or illicit drugs, or taking hormonal pills," according to The Atlantic's Olga Khazan.
The news comes in the wake of Texas' new law that forced the closure of most of the states' abortion clinics, which went from 41 in number three years ago to 17 today. Still more are likely to close, bringing the total down to 10 clinics unless the U.S. Supreme Court, which has agreed to review the law, overturns it, according to Khazan.
The 2013 law required the state's abortion clinics to meet the standards of ambulatory surgical centers, and mandated their doctors have admitting privileges at a nearby hospital.
"At the time, most of the state's clinics didn't meet these requirements," Khazan wrote. "It's too expensive for them to make the necessary renovations, they say, and there are not enough nearby hospitals for every abortion provider to gain admitting privileges."
The average Texas county is 111 miles from the nearest clinic, a distance that is nearly double the national average, according to The New York Times' Kim Soffen.
It's "tremendously disrespectful" to not allow women access to services to get safe abortions, Amy Hagstrom Miller, president and CEO of Whole Woman's Health, told The Guardian. "Abortion is legal in this country. And so every woman deserves to have access to whatever method for terminating her pregnancy safely she might choose in her local community."
-Noel Brinkerhoff, Danny Biederman
To Learn More:
Texas Women Are Inducing Their Own Abortions (by Olga Khazan, The Atlantic)
Hundreds of Thousands of Texas Women Attempted Self-Induced Abortion – Study (by Amanda Holpuch, The Guardian)
Research Brief: Knowledge, Opinion and Experience Related to Abortion Self-Induction in Texas (by D. Grossman, K. White, L. Fuentes, K. Hopkins, A. Stevenson, S. Yeatman, and J. E. Potter, Texas Policy Evaluation Project)
Texas Investigators Ordered Planned Parenthood to Surrender Private Patient and Employee Records (by Steve Straehley, AllGov)
Majority of Texas Abortion Clinics Promptly Close as Federal Court Backs Sweeping State Law (by Noel Brinkerhoff, AllGov)