Florida Agency Buckles to Religious Group Pressure, Cancels LGBT Protections for Foster Home Kids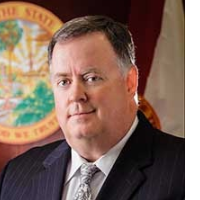 DCF Secretary Mike Carroll
By, Michael Auslen, Times/Herald Tallahassee Bureau
TALLAHASSEE -- A heated national debate over how far to go with LGBT rights has reached the doorstep of foster children living in group homes across Florida.
Florida officials had planned a series of sweeping changes within foster homes, including letting transgender kids wear clothes of their choosing and be placed in group homes according to their identity.
But after at least two religious groups objected, the state's Department of Children and Families abruptly backtracked from putting those new protections in place.
And LGBT activists, during a hearing Friday, let the state know they weren't too happy with the about-face.
"I experienced a lot of discrimination based off of who I self-identified as," said Jessica Hawke, a former foster child. "I had foster parents tell me that if they knew I identified as queer, they wouldn't have taken me in."
Initially, DCF had proposed rules that would have prohibited anti-LGBT bullying and discrimination, as well as banning conversion therapies aimed at changing children's sexual orientation or gender.
But the agency last month revised its plan in favor of more general language changes, outlawing discrimination on the basis of "race, national origin, religion, gender, disability or any other characteristic." Gone is the proposed language the department developed with a group of lawyers called the LGBTQ Child Welfare Workgroup.
The change is meant to ensure all 2,363 children in group homes are treated fairly and not single out just one group, "regardless of inherent traits, personal characteristics, or past experiences," DCF Secretary Mike Carroll said in a statement.
But child welfare and LGBT-rights advocates don't see it that way.
At Friday's hearing in Tallahassee, more than three dozen people spoke up in support of the protections. Many shared personal stories about foster children they work with who have been mistreated because they identify as LGBT.
Cindy Brown, an activist and foster parent, said she has heard "atrocious" stories from LGBT children in her care.
"Counselors who are assigned by DCF telling kids that their problems are because of their orientation is certainly not in the best interest of any child," said Brown, who lives in Miami. "The fact that this conversation is even happening is shocking to me because I cannot imagine any reason not to protect these very vulnerable kids at their most vulnerable time."
It's hard to know how many children have had such experiences. Many LGBT children are afraid to tell someone, said Christina Spudeas, executive director of Florida's Children First.
What's more, activists urged, by proposing rules and then striking them out, people could interpret that as a tacit approval of things like controversial therapies to change kids' sexuality.
That is not the department's intent, said Tory Wilson of the Office of Child Welfare.
No one spoke Friday in favor of the updated DCF rules.
In January, however, both the Florida Conference of Catholic Bishops and Baptist Children's Homes sent letters asking DCF to remove several of the LGBT protections.
The letters refer to being transgender as a "mistaken belief" and say setting aside gender identity and sexual orientation is "unwarranted."
"Clearly, every child should be safe from bullying and harassment in the care of the state of Florida," Michael Sheedy, executive director of the Conference of Catholic Bishops, wrote. "The policy goal should be to promote the healthy development of children, including their sexual development, and acceptance of their gender rightly understood."
DCF's decision comes while LGBT rights is at the forefront of national political debate. In recent weeks, the governors of North Carolina and Mississippi signed laws upending local discrimination bans and requiring transgender people to use the bathrooms of their sex at birth.
That has prompted outcry from businesses and activists alike. (Bruce Springsteen canceled his Sunday show in Greensboro, N.C.)
Some LGBT-rights groups have accused Gov. Rick Scott and DCF of politicizing this issue.
Carroll and DCF staff on hand for the hearing said that's exactly what they don't want to do.
Scott spokesman John Tupps said that "the governor's office collaborates with all state agencies," and that they are "fully aware" of the new DCF rules. However, he would not directly respond whether the governor's office instructed DCF to remove the LGBT language.
To Learn More:
Justice Dept. Sues Florida over Mistreatment of Disabled Children (by Noel Brinkerhoff, AllGov)
Hidden Discrimination against LGBT Students Seen in Religious College Requests for Anti-Discrimination Law Waivers (by Noel Brinkerhoff and Steve Straehley, AllGov)
28 States Offer No Legal Protection against Workplace LGBT Discrimination (by Steve Straehley, AllGov)