28 States Offer No Legal Protection against Workplace LGBT Discrimination
Sunday, November 01, 2015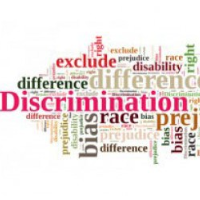 (graphic: pgcpsmess)
The U.S. Supreme Court's ruling in June that legalized same-sex marriage throughout the United States has spawned a saying among the LGBT community: "Marry on Saturday, Get Fired on Monday." That's because 28 states still have no workplace protections for LGBT employees.
A recent example of this was seen in a Missouri court denying relief for James Pittman, who sued Cook Paper Recycling Corp. because he was harassed and discriminated against due to his sexual orientation. Pittman was called a "cocksucker," and asked if he had AIDS. After he was eventually fired, Pittman sued the company, charging it with discriminating against him for being gay, according to ThinkProgress.
In spite of indisputable evidence of the discriminatory harassment that occurred, Missouri's Western District Court of Appeals ruled against Pittman last week, saying it could not support his claim. "Because the Missouri Human Rights Act does not prohibit discrimination on the basis of sexual orientation," the majority wrote, "we affirm the circuit court's judgment dismissing Pittman's petition for failure to state a claim."
It's not surprising that Missouri, with its large rural population, would fail to protect its LGBT citizens. States with employment protections tend to be more urban. "There is a deep rural-urban divide when it comes non-discrimination protections for LGBT people," said Ineke Mushovic, executive director of Movement Advancement Project, which researches issues on LGBT equality. "Vast geographic stretches in this country—mostly in rural areas—lack LGBT-inclusive nondiscrimination laws. Advocates have done impressive work extending local protections, but an LGBT person in a state that lacks statewide protections is fifty times more likely to be covered by local laws if he or she lives in an urban rather than a rural area. State and federal-level nondiscrimination laws are also essential in order to provide protections for everyone."
Some cities and other jurisdictions have extended protections that their states will not. About half the LGBT residents of Florida, for instance, are covered by anti-discrimination ordinances. However, legislators in two states—Arkansas and Tennessee, both of which border Missouri—have forbidden local jurisdictions from protecting their LGBT citizens.
-Steve Straehley
To Learn More:
Gay Man Was Harassed At Work for Being a 'Cocksucker,' Court Says It Won't Do a Thing about It (by Zack Ford, ThinkProgress)
New Report: Only Half of LGBT Americans Explicitly Protected from Employment Discrimination (Movement Advancement Project)
Non-Discrimination Laws (Movement Advancement Project)
Bad Day for Gay Rights in Missouri (by Molly Willms, Courthouse News Service)
Indiana Gov. Pence Signs Bill Allowing Discrimination against Gays (and also Declares an HIV Emergency) (by Noel Brinkerhoff, AllGov)
Obama to Sign Executive Order Barring Anti-Gay Discrimination by Federal Contractors (by Noel Brinkerhoff, AllGov)
Workplace Laws that Don't Apply to Members of Congress (by Matt Bewig, AllGov)