Springsteen Band Member Calls Anti-LGBT Law "Evil Virus" After Bruce Cancels N.C. Concert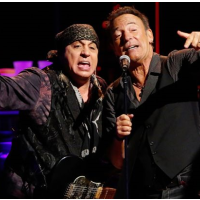 Steven Van Zandt (left) and Bruce Springsteen--Credit: Taylor Hill/Getty Images
By John Carucci, Associated Press
NEW YORK — Bruce Springsteen and the E Street Band canceled their North Carolina concert because of the state's new law blocking anti-discrimination rules for the LGBT community, said guitarist Steven Van Zandt, calling it the kind of legislation that's like an "evil virus" spreading around the U.S.
Van Zandt told The Associated Press they decided not to perform Sunday in Greensboro because of the law, which requires transgender people to use bathrooms based on their biological sex and bans state lawsuits for any type of workplace discrimination.
Springsteen and the band considered, but ultimately rejected, other options, Van Zandt said.
"We always try to find middle ground, and we considered it," he said. "Should we go there and make a statement from the stage? You consider those things, and then you realize that's just playing into their hands. That's not going to hurt enough — you need to hurt them economically."
In a statement on his website Friday, Springsteen said North Carolina's law "is an attempt by people who cannot stand the progress our country has made in recognizing the human rights of all of our citizens to overturn that progress."
Later, Springsteen used his Facebook page to urge followers to contact lawmakers, adding a link to find them.
In North Carolina, religious leaders and others have defended the law, saying it protects women and children from men who use the law as a pretense to enter the wrong restroom. But more than 130 corporate executives have signed a letter demanding North Carolina's Republican governor seek the law's repeal, and many states and cities have barred nonessential taxpayer-funded travel there.
Van Zandt said such legislation must be challenged.
"This sort of thing is spreading like an evil virus around the country," he said. "We felt we better stop this, we should try and stop this early, and hopefully other people will rise up and join us."
Van Zandt said he considers it anti-American to discriminate against people. "Whether it's women, whether it's gay, transgender, there's no difference," he said. "It was very important to us to take a stand early in this before it starts to spread all over the place."
People who bought tickets to the Greensboro concert will get refunds.
To Learn More:
28 States Offer No Legal Protection against Workplace LGBT Discrimination (by Steve Straehley, AllGov)
Business Backlash to North Carolina Law Barring Local LGBT Anti-Discrimination Laws (By Emery P. Dalesio and Gary D. Robertson, Associated Press)
North Carolina Latest State to be Sued by Justice Department Over Voter ID Law (by Noel Brinkerhoff, AllGov)