Federal Appeals Court Revives Lawsuit Charging High-Level Bush Administration Officials in Roundup and Detention of U.S. Muslims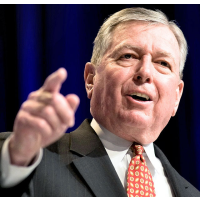 Former Attorney General John Ashcroft--Credit: Cliff Owen/Associated Press
A lawsuit brought against a former U.S. attorney general and head of the Federal Bureau of Investigation (FBI) under President George W. Bush has been revived, and with it, claims that the government violated the constitutional rights of Muslim Americans after September 11.
The 2002 case accuses Attorney General John Ashcroft and FBI Director Robert S. Mueller III of ordering authorities to detain hundreds of people, mostly Muslim men, who were rounded up for immigration violations and questioned at the Metropolitan Detention Center in Brooklyn.
The Department of Justice's inspector general issued reports in 2003 that said the government didn't distinguish for the most part between genuine suspects and Muslim immigrants with minor visa violations. The reports also documented widespread abuse at the detention center, including beatings, humiliating searches, and being denied food, sleep and religious materials. Some of the men were held as long as eight months.
The lawsuit, brought by eight plaintiffs, was dismissed by a federal court. It was revived after they petitioned the Second Circuit Court of Appeals, where a divided panel of judges ruled (pdf) the case had enough merit to continue.
"The suffering endured by those who were imprisoned merely because they were caught up in the hysteria of the days immediately following 9/11 is not without a remedy," Judges Rosemary S. Pooler and Richard C. Wesley wrote in a joint opinion.
"Holding individuals in solitary confinement 23 hours a day with regular strip-searches because their perceived faith or race placed them in the group targeted for recruitment by Al Qaeda violated the detainees' constitutional rights," the judges said.
In what the Center for Constitutional Rights, whose attorneys represented the plaintiffs, said was an unusual "Final Thoughts" section in the opinion, the court wrote:
"If there is one guiding principle to our nation it is the rule of law. It protects the unpopular view, it restrains fear-based responses in times of trouble, and it sanctifies individual liberty regardless of wealth, faith, or color. The Constitution defines the limits of the Defendants' authority; detaining individuals as if they were terrorists, in the most restrictive conditions of confinement available, simply because these individuals were, or appeared to be, Arab or Muslim exceeds those limits. It might well be that national security concerns motivated the Defendants to take action, but that is of little solace to those who felt the brunt of that decision. The suffering endured by those who were imprisoned merely because they were caught up in the hysteria of the days immediately following 9/11 is not without a remedy."
-Noel Brinkerhoff
To Learn More:
Immigrants' Lawsuit Over Post-9/11 Detention Is Revived (by Adam Liptak, New York Times)
Historic Ruling: High-Level Bush Officials Including Ashcroft May Be Sued for Post-9/11 Abuse of Immigration Detainees at Metropolitan Detention Center (Center for Constitutional Rights)
Ibahim Turkmen v. Dennis Hasty (Second Circuit Court of Appeals)
Post-9/11 Detainees, Never Charged, Sue Bush Officials for Illegal Arrest and Abuse (by Noel Brinkerhoff and David Wallechinsky, AllGov)