EPA Finally Moves to Protect Child Workers from Pesticides
Wednesday, September 30, 2015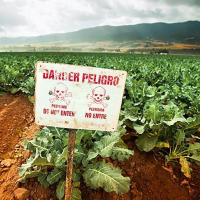 (photo: Getty Images)
The Environmental Protection Agency (EPA) announced this week that it will adopt new rules intended to better protect children and others working in farm fields from exposure to pesticides.
Under the proposed rules, anyone under 18 years of age will be prohibited from handling pesticides. The changes to the Agricultural Worker Protection Standard also include required annual training on pesticide protections. Currently, the training is mandated only once every five years.
"Farmworkers deserve to be healthy and safe while they are earning a living," EPA Administrator Gina McCarthy said.
Additionally, farms will have to post no-entry signs when fields are doused with the most toxic pesticides. Farmers also will have to maintain a 100-foot buffer zone around pesticide application equipment to protect workers from exposure and overspraying.
Farm owners and their immediate families will be exempt from the rules.
Between 1,800 and 3,000 people suffer from pesticide exposure each year at farm operations that will be covered by these rules. They will take effect 14 months after they are published in the Federal Register, which should happen within the next 60 days.
-Noel Brinkerhoff, Steve Straehley
To Learn More:
EPA Updates Pesticide Rules for Farmworkers (by Elizabeth Warmerdam, Courthouse News Service)
EPA Rules Will Strengthen Pesticide Safety On Farms (by Mary Clare Jalonick, Associated Press)
What are the Major Changes for Farmers and Farmworkers? (Environmental Protection Agency)
Obama Gives Up Fight to Restrict Child Labor on Non-Family Farms (by Matt Bewig, AllGov)