Education Secretary Calls for End to Corporal Punishment in Nation's Schools
Tuesday, November 22, 2016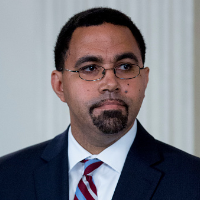 Education Secretary John B. King (photo: Getty Images)
By Carolyn Thompson, Associated Press
BUFFALO, N.Y. (AP) — Education Secretary John B. King Jr. is urging governors and school leaders in states that allow student paddling to end a practice he said would be considered "criminal assault or battery" against an adult.
King released a letter (pdf) Tuesday asking leaders to replace corporal punishment with less punitive, more supportive disciplinary practices that he said work better against bad behavior.
More than 110,000 students, including disproportionate numbers of black and disabled students, were subjected to paddling or a similar punishment in the 2013-14 school year, said King, citing the Education Department's Civil Rights Data Collection.
Corporal punishment is legal in 22 states.
"The practice has been clearly and repeatedly linked to negative health and academic outcomes for students," King said during a conference call with reporters. "It is opposed by parent organizations, teachers unions, medical and mental health professionals and civil rights advocates as a wholly inappropriate means of school discipline."
Coming toward the end of President Barack Obama's term, the push to end corporal punishment builds on the administration's "Rethink Discipline" campaign to create safe and supportive school climates, King said. It also lines up with Obama's "My Brother's Keeper" initiative, meant to address persistent opportunity gaps facing boys and young men of color, he said.
Eighty organizations, including the American Academy of Pediatrics, NAACP, Association of University Centers on Disabilities and American Federation of Teachers, signed an open letter released by the National Women's Law Center supporting an end to the practice. Students are regularly paddled for minor or subjective infractions like dress code violations, cellphone use or disrespecting staff, the letter said.
"Corporal punishment of adults has been banned in prisons and in military training facilities, and it's time we do the same for our nation's schoolchildren," said Fatima Goss Graves of the Women's Law Center.
Although its use has been diminishing, there are corners of the country where corporal punishment remains deeply woven into culture and tradition. School administrators say it has broad support from parents and preserves learning time that would be lost to a suspension.
Fifteen states expressly permit corporal punishment: Alabama, Arizona, Arkansas, Florida, Georgia, Kentucky, Louisiana, Mississippi, Missouri, North Carolina, Oklahoma, South Carolina, Tennessee, Texas and Wyoming. In seven states, there is no state law prohibiting it. They are: Colorado, Idaho, Indiana, Kansas, Maine, New Hampshire and South Dakota.
"There are better, smarter ways to achieve safe and supportive school environment," King said, adding that the education law passed late last year supports using funding for positive intervention and supports.
President-elect Donald Trump has not yet announced his choice for education secretary. He met last week with Michelle Rhee, a former chancellor of the District of Columbia schools.
"It doesn't actually matter who the secretary of education is or what people's view is about the election," AFT President Randi Weingarten said on the call with King. "This is a moral matter .... We must all be about safe and welcoming places for all students."
To Learn More:
Letter to Governors and Chief State School Officers on Corporal Punishment (John B. King, Department of Education) (pdf)
Parents and Teachers May Legally Spank Kids Hard Enough to Bruise, if Kansas Bill Becomes Law (by Danny Biederman and Noel Brinkerhoff, AllGov)
Disabled Children More Likely to Receive Corporal Punishment in U.S. Schools (by Noel Brinkerhoff, AllGov)