Acting Secretary of Education: Who Is John B. King?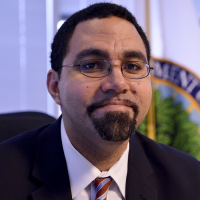 John King Jr. (photo: Freddie Allen, NNPA)
John B. King Jr., was confirmed by the U.S. Senate on March 14, 2016, as Secretary of Education. He had been serving as acting secretary since the departure in late 2015 of Arne Duncan.
King was born in Brooklyn in 1975. His commitment to education comes naturally; both his parents were educators. His father was the first African-American principal in Brooklyn. His mother, Adalinda, was born in Puerto Rico and moved to New York as a child. She was a guidance counselor who met King's father when she was taking a graduate class from him.
King's parents died when he was young. His mother died at age 48 of a heart attack when King was 8 and his father shortly thereafter began to show symptoms of Alzheimer's disease. King was running the household until he was 12, when his father died at age 79. He was first sent to live with a half-brother, which didn't work out, and then enrolled at the Phillips Academy, Andover, Massachusetts, boarding school. He was kicked out from there, but found stability living in New Jersey with his father's brother (who had been an officer in the Tuskegee Airmen) and his family.
King went to Harvard, earning a BA in government and an MA in the teaching of social studies at Columbia University Teachers College. He has subsequently earned a JD from Yale Law School, and a Doctor of Education degree in educational administrative practice from Columbia.
He taught school, first in Puerto Rico, then in Boston for three years. In 1999, King helped found the Roxbury Prep charter school in one of Boston's poorer neighborhoods, designing the curriculum and structure of the school. After five years, he took his concept to New York, where he helped found Uncommon Schools, a network of charter schools putting into practice the techniques he used at Roxbury Prep. The organization now oversees schools in New York City, Troy, Upstate New York, New Jersey, and Boston.
King has said his idea of an ideal school is one with a rigorous curriculum, excellent teachers, a longer school day and a longer school year. He also wants a focus on data to give teachers a picture of how their students are performing.
King began to be noticed as an innovator in the world of public education. In 2009, he was made senior deputy education commissioner for the state of New York. The following year, he was courted by Facebook founder Mark Zuckerberg to become superintendent of the troubled Newark, New Jersey, school system, to which Zuckerberg was making a $100 million donation. Then-Newark Mayor Cory Booker, a Democrat, and Republican New Jersey Gov. Chris Christie were also part of the effort to turn around Newark's schools within five years. King declined the offer, believing it would take longer than five years and that politics might get in the way of the plan.
Instead, King took over as New York's education commissioner in 2011. He ran into trouble when he instituted Common Core learning standards at the same time he put in place teacher evaluations. He ran into pushback from the teachers' union, which pointed out that it was unfair to evaluate teachers when they were still grappling with a new curriculum.
King's biggest triumph as education commissioner was obtaining $700 million in Race to the Top grants for New York's schools from the federal government. The grants were awarded for promoting charter schools, changing the way teacher evaluations were done, overhauling teacher preparation programs, and committing to shared learning standards.
King was brought to Washington in early 2015 as a senior adviser delegated the duties of the job of Deputy Secretary of Education under Duncan. The title enabled King to avoid the process of being confirmed by the Senate, which has been increasingly difficult since the Republicans assumed control. There he oversaw preschool-through-12th-grade education policies, programs and strategic initiatives, and department operations.
His elevation to the top spot in the Education Department was handled in much the same manner. Since Republicans had dragged their feet in approving even the most routine nominations until recently, Obama sidestepped the process when he could. He named King to serve as acting secretary after Duncan stepped down at the end of 2015.
King's wife, Melissa Steel King, is a senior research scientist at the Center for Human Services Research at the State University of New York, Albany. They have two daughters, Amina and Mareya.
-Steve Straehley
To Learn More:
Charter Founder Is Named Education Commissioner (by Sharon Otterman, New York Times)
Education: The Difference Between Hope and Despair (by John King, Huffington Post)
The Real Story: Why Mark Zuckerberg's $100 Million Gift to Newark Schools Was Announced on Oprah's Show (by Valerie Strauss, Washington Post)