Parents and Teachers May Legally Spank Kids Hard Enough to Bruise, if Kansas Bill Becomes Law
Thursday, February 20, 2014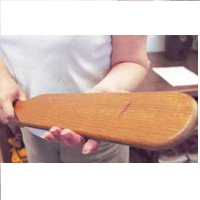 Lawmakers in Kansas are considering legislation that would broaden corporal punishment to allow parents and teachers to spank children with enough force to cause contusions.
The bill (pdf) would allow educators, mothers and fathers to strike a child up to 10 times on their covered rear end, using hands only. It also permits "reasonable physical force" to restrain a child during the spanking. Bruises that result from this would be allowable under proposed the law.
Additionally, the legislation would allow parents to give permission to others to spank their children. In addition to school officials, such people could include caregivers and students who are over 18 and enrolled in high school.
The bill's author, Democratic House member Gail Finney, said the change is intended to restore parental rights.
"What's happening is there are some children that are very defiant and they're not minding their parents, they're not minding school personnel," Finney told the media.
Finney got the idea for the legislation from McPherson Deputy County Attorney Britt Colle. He said the bill "clarifies what parents can and cannot do" regarding spanking.
Finney said she is trying to protect parents from being charged with child abuse when bruises are discovered after spankings. "It could be a small amount of a bruise [and] a parent could still be charged with child abuse when it wasn't anything serious," she told The Wichita Eagle.
Sedgwick County District Attorney Marc Bennett seemed to disagree about there being a gray area between spanking and abuse, noting that the law is clear on the difference. "We don't arrest people for giving their kid a swat on the behind," Bennett told the Eagle.
"There seems to be an effort here to line-item all the things that can be done and can't be done. … I've been doing this for 19 years now, and there's no 'redness rule' or '10-strike rule' or 'closed-fist rule' in Kansas law. I don't know, frankly, what's driving this."
Striking a child with fists, hitting their head or body or using objects like belts or switches would not be allowed under the legislation, according to Colle.
Regardless of its restrictions, the bill is a bad idea, opponents argue.
"If you hit kids when they're small, for whatever reason you're hitting them, you're planting the idea that it's OK to use pain to accomplish an end," John Valusek, a retired Wichita psychologist and teacher who fought for decades to end spanking, told the Eagle.
Fifth-grade Wichita teacher Dorothy Adams opposes educators being given the right to spank students in school. "What kind of message would I be sending to them if I chose to hit them for something they had done?" she told the Eagle. "I am not saying I am for or against spanking. What I am saying is that it has no place in schools. We are always striving to make our classrooms safer for children. This would be working against that effort."
- Danny Biederman, Noel Brinkerhoff
To Learn More:
Teachers Could Spank Harder Under Bill Pending in KS Legislature (by Chris Oberholtz and Bonyen Lee, KCTV News)
Sponsor of Kansas Spanking Bill Says it Would Help Define Corporal Punishment, Restore Parental Rights (by Suzanne Perez Tobias and Bryan Lowry, Wichita Eagle)
House Bill 2699 (Committee on Corrections and Juvenile Justice) (pdf)
Disabled Children More Likely to Receive Corporal Punishment in U.S. Schools (by Noel Brinkerhoff, AllGov)