Domestic and Global Violence Lead to Skyrocketing U.S. Gun Purchases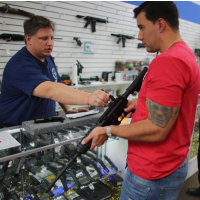 (photo: Getty Images)
By Mike D. Smith and Dane Schiller, New York Times
Melissa McClaskey never envisioned herself in a place like Shiloh Gun Range & 3D Archery, donning ear muffs and goggles, a pistol in hand.
She'd always distanced herself from firearms, a decision rooted in family tragedy when she was a child. Years later, her siblings own guns. So do most of her friends. But not McClaskey.
Then came the May shooting spree in west Houston, just blocks from where she works, in which the gunman and a bystander were killed and six others injured.
Then came Orlando, where a gunman armed with a Sig Sauer MCX assault rifle and pistol killed 49 people and injured 53 in a gay nightclub.
Suddenly, there seemed to be a lot of reasons - too many - for McClaskey and her wife, Krysta, to join the ranks of gun owners.
"I'm not going to have to beg for something to happen," McClaskey said recently. "I can actually prevent something from happening."
Requests nationwide to buy guns are skyrocketing as America grapples with violence, including the recent slaying of five Dallas police officers.
The FBI reports that nearly 14 million requests for background checks to purchase a gun were made in the first half of this year - a 25 percent increase compared with the same period in 2015.
More requests have been made in the first half of 2016 than were made in entire years from 1998 through 2008.
Texas, which has long been among the top states in the nation for gun ownership, has notched more than 800,000 requests so far this year, but trails California and Illinois.
"No matter your politics, there is an overwhelming fear the world is becoming less safe," said Chuck Joyner, a retired FBI agent who is a Houston-based law enforcement consultant.
"You see people who are presumed to be innocent shot by police; you see police shot by snipers; you see terrorist acts throughout the world," he said. "Most people are thinking, 'What can I do to protect myself? What can I do to protect my family?'"
The Dallas police officers were gunned down last week by sniper Micah Xavier Johnson, 25, following a peaceful demonstration by Black Lives Matter protesters in downtown Dallas. Johnson, an Army veteran, told police during an hourslong standoff that he hated white people and wanted to kill white officers; he eventually was killed by police.
In Orlando, Omar Mateen, who claimed allegiance to the Islamic State, opened fire in a gay nightclub. In the May shooting in west Houston, Dionisio Garza III ranted for an hour as he opened fire, killing one man and injuring several people before being killed by a SWAT officer.
Guns doubled
Nearly 11,000 federally licensed firearms dealers operate in Texas, far more than any other state. Many of them are concentrated in the Houston region.
"People love their guns in Texas and Houston is no exception," said Special Agent Nicole Strong, spokeswoman for the Houston division of the Bureau of Alcohol, Tobacco, Firearms and Explosives. "That is a statewide trend."
Guns sold by licensed dealers require a background check, which is conducted electronically and includes questions about a person's criminal history, mental health, immigration status and other matters such as who will be the actual owner of a gun.
Guns sold by private individuals - including private sales at gun shows - do not require background checks.
The FBI operates the computerized background check system, but the government is prohibited by federal law from releasing details about the checks or gun ownership.
Gun buyers can purchase as many firearms as they can afford, but if they buy two or more in any five-day period, the ATF will be flagged as part of an effort to curb gun trafficking, Strong said.
The number of guns manufactured each year in the United States more than doubled - from 5.4 million to 11 million -between 2010 and 2013, the latest year for which figures are available, according to the U.S. Department of Commerce.
Joe Woolley, who teaches concealed handgun courses in the Houston area and is a licensed firearms dealer, said the increase is noticeable.
People are realizing that violence they once thought did not affect them has moved closer, and many fear gun control laws will grow stricter and further limit access to firearms, he said.
"A lot of people went out and bought their first firearm, shot it, and said, 'Dang, this is fun,' " he said. "They went out and bought more. There is a whole new group of people, younger folks and ladies."
Emotional reactions
In a handgun training class recently at the Shiloh gun range in northwest Houston, students spent several hours learning the parts of handguns and how to aim them, the proper way to arm and hold them, and how to check if they're loaded.
Post-Orlando "seems like the perfect time" to become a gun owner, said Cody J. Coffel.
Coffel, 25, grew up around guns and has always believed in the right to carry, though he hadn't really handled them. But as a gay man, Coffel said he's a target. He and a friend plan to shop for a gun.
"You never think, 'That could be me. I could have this power. I could have this control over myself and over my protection,'" Coffel said.
"Knowing I'm here to achieve that power and protection over my own life, over myself and people who may be around, it's a relief."
Ethan Guillory, 27, said the Orlando shooting made him "stop dragging my feet" and consider a pistol for personal protection. He grew up hunting with rifles and used them while in the military.
"I just keep on thinking that Houston is kind of overdue, not to wish anything bad at all," Guillory said.
Shiloh owner Jeff Sanford reached out to Houston's gay community in the wake of the Orlando shootings, and had 700 requests for license-to-carry classes within the first week.
"We're definitely seeing new people," he said. "We're not just seeing the middle-age, conservative white guys. We're seeing your neighbor come in to learn to shoot: black, white, brown, women, men and now LGBT."
University of Houston sociology instructor Luis Salinas said the emotional reactions to traumas large and small are natural.
"It has this sort of emotional effect on people, this emotional, comforting effect where, 'I feel safe if I know I have a gun around me,'" he said. "We understand that response."
Still, Salinas cited data suggesting that more guns may not be the best answer. Having a firearm brings an increased risk of injury or death, he said. And in a nightclub setting, a person might not even be allowed to carry a firearm.
"The hyperbole has gotten really high on that," Salinas said.
Fears subsiding
By the time she'd fired 36 shots, Melissa McClaskey could feel her fears subsiding and her confidence growing.
"It probably didn't happen until I fired that first round and realized that I was completely in control - that I had control over everything from the loading of that weapon to handling that weapon and shooting that weapon," she said.
She maintains a "healthy fear," she said, but expects to grow more comfortable with additional training.
"I definitely think it is safe to always have a healthy fear but I've overcome my aversion to having a weapon of that caliber to defend myself," she said.
Melissa and Krysta McClaskey plan to continue the process for getting concealed carry permits, and say they'll purchase a weapon to have at home.
Krysta McClaskey said arming herself isn't giving in to terror or letting evil "win." There's a way to follow the rules and still be able to protect yourself.
"I look at it as I'm giving myself power," she said.
"I'm taking power away from other people over me. I have the power to seal my own destiny and take care of myself."
Mike Ward contributed to this report.
To Learn More:
Increased Media Coverage of Gun Attacks Leads to Record-Breaking Summer Gun Sales (by Noel Brinkerhoff, AllGov)
Led by Pistol Sales, Gun Production has more than Doubled Since Obama became President (by Noel Brinkerhoff and Danny Biederman, AllGov)