Increased Media Coverage of Gun Attacks Leads to Record-Breaking Summer Gun Sales
Saturday, September 12, 2015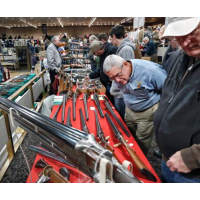 (photo: Philip Kamrass, AP)
Recent mass shootings and the corresponding media coverage prompted millions of Americans to buy firearms, and in turn produced record results for background checks.
The past few months have seen dramatic coverage of shootings, including those in South Carolina and Louisiana, which prompted some to call for tighter background checks and other gun safety measures.
"We're not at all threatening anyone's ability to get a gun," Virginia Del. Patrick Hope (D), who proposed increased background checks last month after the shooting of two television journalists, told USA Today. "What we're talking about here is common sense legislation. I don't think anyone is threatened by background checks."
Some people apparently are. Many bought more firearms, generating a record total for background checks for August, July, June and May, according to numbers (pdf) from the Federal Bureau of Investigation (FBI).
In August, the FBI received reports of 1.7 million background checks required of gun purchasers at federally licensed dealers, which was the highest number recorded in any August since gun checks began in 1998, USA Today reported. Likewise, July broke the record for that month, with 1.6 million requests. So did June (1.5 million) and May (1.6 million).
The FBI's National Instant Criminal Background Check System's numbers "are an indicator of a market upswing in the face of growing anxiety about access to guns," USA Today's Kevin Johnson wrote.
Larry Keane, general counsel for the firearm industry trade association National Shooting Sports Foundation, told Johnson: "Whenever there is a call for gun control, sales increase. Unfortunately, this is a pattern that repeats itself."
-Noel Brinkerhoff
To Learn More:
Renewed Calls for Gun Control Laws Spur Sales (by Kevin Johnson, USA Today)
NICS Firearm Background Checks (Federal Bureau of Investigation) (pdf)
Majority of Americans Want Background Checks for all Gun Sales and a Ban on Assault-Style Weapons (by Noel Brinkerhoff, AllGov)
Led by Pistol Sales, Gun Production has more than Doubled Since Obama became President (by Noel Brinkerhoff and Danny Biederman, AllGov)
As Hunting and Gun Ownership Decline, Remaining Gun Owners Stock Up (by Noel Brinkerhoff, AllGov)