Did the DEA Help a Florida Task Force Hide and Launder Drug Money or Just Turn a Blind Eye?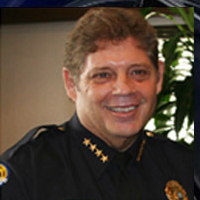 Tom Hunker
The police department in a small South Florida beachfront community decided in 2010 to turn itself into Miami Vice and run a money-laundering sting operation to catch drug dealers. The operation, which ended up laundering about $70 million, did so with either the knowledge, or willful ignorance, of the federal Drug Enforcement Administration (DEA).
Bal Harbour, Florida, near Miami Beach, doesn't have much crime. In 2012, the only major felony reported there was an aggravated assault. But the village's police department, led by Chief Tom Hunker, put together a task force with the Glades County Sheriff's Office, a department from a poor, rural area west of Lake Okeechobee. Together those officers devised elaborate sting operations to launder drug money, flying around the country to do so. But the task force made no arrests, and in fact some of the businesses for whom it laundered money are still operating.
"They were like bank robbers with badges," Dennis Fitzgerald, an attorney and former DEA agent, told the Miami Herald, which did a major investigation of the task force. "It had no law enforcement objective. The objective was to make money."
According to the Herald investigation, the DEA told the task force in 2012 that it should seek permission before making any more out-of-state trips to launder money. Task force officers persisted in jetting to places such as New York and Chicago to make more pickups, the Herald reported and continued getting assistance from the DEA. Agency spokesman Rusty Payne said DEA agents were working on only "the investigations that already had been underway," according to the Herald.
A report from the Tri-County Task Force (the name is an oddity in itself, because the operation involved officers from only two counties, Glades and Miami-Dade) claimed it turned over information to the DEA that resulted in 200 arrests. The agency couldn't verify those numbers, however. "There were arrests, we can say that, but there's no way we can validate those numbers. We have no idea what they are basing those numbers on," Payne told the Herald.
Up to about $83 million was run through the operation. Task force records account for most of it, but as much as $12 million is unaccounted for. Large withdrawals were being made from task force bank accounts with no accounting for what the money was spent on. There were trips to Las Vegas and San Juan, Puerto Rico, with agents staying in luxurious accommodations. Money taken as commissions in the laundering business was also used to pay for task force members' salaries.
"It's just unbelievable. It couldn't have gone on without the complicity of the DEA," Fitzgerald told the Herald. "They couldn't have been flying around the country picking up cash without the DEA."
The U.S. Justice Department took a look at the operation and in a report (pdf) criticized the village for using task force funds for salaries and the task force itself for poor record-keeping. No charges were filed, however. The Federal Bureau of Investigation also looked into the task force, but performed no audit of the task force's books and eventually took no action at all.
Bal Harbour chief Hunker was fired in March 2013.
-Steve Straehley
To Learn More:
To Serve, Protect and Profit (by Michael Sallah and Joanna Zuckerman Bernstein, Miami Herald)
Report of Investigation (pdf) (Department of Justice, Office of Inspector General)
Bal Harbour, Glades County Task Force Helped Criminals Launder $70M (by Kenny Malone, WLRN)