Despite Spread of Acceptance of Legal Marijuana, Arrests Rise for First Time in 6 Years
Wednesday, September 30, 2015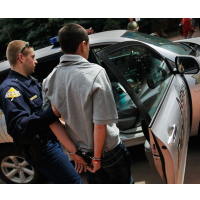 Police arrest a man for marijuana possession (photo: Getty Images)
Arrests for possession of marijuana went up last year, reversing a six-year decline and occurring at a time when public sentiment has indicated greater tolerance for legalized pot.
Figures released by the Federal Bureau of Investigation showed police across the country made more than 700,000 arrests on marijuana-related charges in 2014. About 619,800 arrests, or 88.4%, were for marijuana possession alone, a rate of about one arrest every 51 seconds over the entire year, according to Huffington Post.
More importantly, the 2014 total was higher than 2013's, when 609,570 people were booked on possession charges. The number of marijuana arrests had steadily declined before last year from 2009 to 2013.
But arrests for the sale and manufacture of marijuana, which also have been declining, continued to decrease in 2014, when there were 81,184 arrests. That total represented a 20-year low. Arrests for sale and manufacture of pot reached an all-time high of 103,247 in 2010.
"It's unacceptable that police still put this many people in handcuffs for something that a growing majority of Americans think should be legal," Tom Angell, chairman of the advocacy group Marijuana Majority, told ThinkProgress. "A record number of states are expected to vote on legalizing marijuana next year, so we hope and expect to see these numbers significantly dropping soon. There's just no good reason that so much police time and taxpayer money is spent punishing people for marijuana when so many murders, rapes and robberies go unsolved."
While arrests for pot possession climbed last year, two states – Colorado and Washington – were fully implementing their decriminalization laws for marijuana. At the same time, Oregon, Alaska and Washington, D.C., adopted their own legalization laws.
More such laws may be on the way. Voters may consider legalization measures on the ballot in 2016 in Arizona, California, Massachusetts, Missouri and Nevada.
The American Civil Liberties Union has previously reported that $3.6 billion is spent each year on enforcing laws banning possession of marijuana.
-Noel Brinkerhoff, Steve Straehley
To Learn More:
Police Arrested Someone For Weed Possession Every 51 Seconds In 2014 (by Nick Wing, Huffington Post)
Marijuana Arrests Suddenly Rose Last Year Even As States Legalized Pot (by Carimah Townes, ThinkProgress)
Growing Number of Counties Decide it's not Worth Prosecuting Marijuana Offenders (by Noel Brinkerhoff, AllGov)
As Marijuana Legalization Spreads in Some Parts of U.S., Some States Use Federal Grants to Crack Down Harder (by Noel Brinkerhoff and Danny Biederman, AllGov)