Complaints against Border Patrol Allege Abuse and Racial Profiling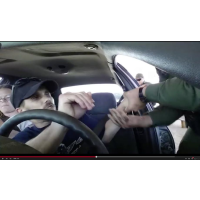 Border Patrol agent removes driver from his car (photo: YouTube)
Border Patrol officers working in the Southwest have been accused of improper use of firearms, racial profiling, excessive roughness and verbal abuse.
The accusations were contained in nearly 6,000 pages of complaints, arrest statistics and other records released to the American Civil Liberties Union of Arizona (ACLU) by the Department of Homeland Security, which oversees the Border Patrol.
The documents, obtained only after the ACLU sued the agency for them, cover a period from January 2011 to August 2014 and "portray an agency whose fractured oversight system has enabled at least some agents working along the southern border to stretch the limits of law and professional courtesy while rarely facing meaningful consequences," according to The New York Times.
ACLU lawyer James Lyall went even further, saying the "records paint a disturbing picture of lawlessness and impunity, in which the agency continually operates without any regard for accepted best practices, and agents commit widespread abuses knowing they won't be held accountable."
Since January 2010, 33 people have died in encounters with border and customs agents, but only one agent, Lonnie Swartz, has been charged with murder. The records provided to the ACLU also showed only one complaint out of 142 resulted in disciplinary action for an agent—and that involved the stopping of a vehicle at the border driven by the son of a retired Border Patrol agent.
The Border Patrol also has been underreporting complaints to Congress. The ACLU pointed out that in fiscal year 2012, "oversight agencies listed three complaints accusing agents of violating the Fourth Amendment, which prohibits unreasonable searches and seizures," the Times' Fernanda Santos wrote. "At the same time, the records the ACLU received include 81 such accusations filed during the same period against agents assigned to the Border Patrol's Tucson and Yuma sectors, or only two of its 20 regional divisions along the southern and northern borders."
Rep. Raúl M. Grijalva (D-Arizona), whose district includes a stretch of the border, says his office has received many complaints from constituents about how they're treated by the Border Patrol.
"Citizens, permanent legal residents, people who have lived in the borderlands for generations — that's who's making these complaints," Grijalva told the Times. "People make the complaints, but their complaints go nowhere. There's no acknowledgment, absolutely no response." Grijalva said that he had had his car searched this year at a checkpoint south of Tucson.
-Noel Brinkerhoff
To Learn More:
Border Patrol Accused of Profiling and Abuse (by Fernanda Santos, New York Times)
Border Patrol Accused of Ongoing Abuses in Arizona (by Sarah Childress, PBS)
ACLU of Arizona Demands Investigation of 'Roving' Border Patrol Units in Southern Arizona (American Civil Liberties Union)
Border Patrol Agent Indicted for Killing Teenager on Mexican Side of Border (by Noel Brinkerhoff, AllGov)
Citizens' Growing Protests against Border Patrol Checkpoints Inside the U.S. (by Danny Biederman and Noel Brinkerhoff, AllGov)
10 Lawsuits Filed against Border Patrol for Abuse (by Matt Bewig, AllGov)