Border Patrol Agent Indicted for Killing Teenager on Mexican Side of Border
Saturday, September 26, 2015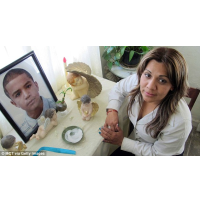 Araceli Rodríguez with photo of her son, José Antonio (photo: MCT via Getty Images)
A Border Patrol agent accused of killing a Mexican teenager by shooting through a border fence has been indicted by the federal government.
Agent Lonnie Swartz was charged with second-degree murder by a federal grand jury in the death of 16-year-old José Antonio Elena Rodríguez, who was shot 10 times while standing on Mexican territory.
The teen's family has said he was only walking home and doing nothing wrong when he was killed. The Border Patrol contends Elena Rodríguez was throwing rocks at Swartz, justifying his use of lethal force.
The Associated Press reported that Swartz is only the third Border Patrol agent in more than 20 years to face murder charges. The other two—Nicholas Corbett in 2007 and Michael Elmer in 1992—were not convicted.
"It's very rare for a Border Patrol agent to be charged criminally when the abuse or killing is on U.S. soil," Lee Gelernt, deputy director of the Immigrants' Rights Project for the American Civil Liberties Union (ACLU), told the AP.
Swartz also faces a civil suit, filed by the ACLU on behalf of Elena Rodríguez's mother, in the death of the teen.
-Noel Brinkerhoff
To Learn More:
Border Patrol Agent is Indicted in 2012 Fatal Shooting (by Astrid Galvan, Associated Press)
Border Patrol Agent Indicted in 2012 Fatal Shooting (CBS News)
Federal Judge Gives Go-Ahead for Mexican Mother to Sue after Son Shot to Death in Mexico by Border Patrol in U.S. (by Noel Brinkerhoff, AllGov)
U.S. Courts Struggle with Case of Border Patrol Agent who Shot to Death a Teenager on the other Side of the Border (by Noel Brinkerhoff and Danny Biederman, AllGov)