CIA Ends Information Sharing with Climate Scientists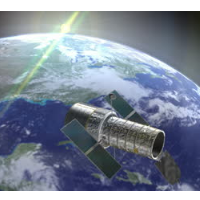 (photo: NASA)
Shutting down a program that began nearly a quarter-century ago, the Central Intelligence Agency (CIA) has decided to stop sharing classified information it collects on the ocean and atmosphere with scientists studying climate change.
The CIA has ended its Measurements of Earth Data for Environmental Analysis (MEDEA) program, according to news reported by Mother Jones. Under MEDEA, about 60 civilian scientists had security clearances that allowed them to receive classified data, "such as ocean temperature and tidal readings gathered by Navy submarines and topography data collected by spy satellites," wrote journalist Tim McDonnell.
The program provided climate experts with information about global warming and other climate-related threats that they couldn't access from other sources. The CIA uses that data in its analyses on how weather changes will impact global conflicts. It's believed that the spy agency had heretofore partnered with the MEDEA scientists to perform their analyses, which then made its way into the agency's annual Worldwide Threat Assessment (pdf) report, according to McDonnell.
President Obama has called climate change "an immediate risk to our national security" and urged U.S national security agencies to give the matter high priority. He also signed an executive order requiring that climate change data be developed and shared among federal agencies, and made available to the public.
The CIA didn't state why it shuttered MEDEA, saying in a statement: "Under the Medea program to examine the implications of climate change, CIA participated in various projects. These projects have been completed and CIA will employ these research results and engage external experts as it continues to evaluate the national security implications of climate change."
In general, Republicans have long been opposed to federal efforts to study climate change. Attacking U.S. intelligence agencies for its national security studies on the environment, Sen. John Barrasso (R-Wyoming) generated a calculated sound bite in 2010, saying they "should be focused on monitoring terrorists in caves, not polar bears on icebergs." And just last week, Sen. Jim Inhofe (R-Oklahoma) called Obama's recent call for action "a severe disconnect from reality."
The U.S. Defense Department doesn't see it that way. In a 2014 report (pdf), it called climate change a "threat multiplier" that it predicts will have the effect of worsening global conflicts. (House Republicans thumbed their collective nose at the Pentagon by passing an amendment last year that would prevent it from spending money on matters related to climate change, or using funds on alternative sources of energy.)
Columbia University political scientist Marc Levy, who has worked with U.S. intelligence agencies on climate change issues since the 1990s, agrees with the Pentagon assessment and suggests that the CIA's closing of MEDEA is a step in the wrong direction. "The climate problems are getting worse in a way that our data systems are not equipped to handle," he told Mother Jones. "There's a growing gap between what we can currently get our hands on, and what we need to respond better. So that's inconsistent with the idea that MEDEA has run out of useful things to do."
The CIA began the program in 1992 under President George H. W. Bush, whose son George W. Bush, as president, shut down MEDEA. In 2010, President Barack Obama revived the program along with establishing a new CIA office, Center for Climate Change and National Security. That office was shut down without explanation in 2012.
- Danny Biederman, Noel Brinkerhoff
To Learn More:
Exclusive: The CIA Is Shuttering a Secretive Climate Research Program (by Tim McDonnell, Mother Jones)
CIA Shuts Down Climate Research Program (by Jason Plautz, National Journal)
Pentagon Devises Strategy for Responding to "Immediate Risk to National Security"—Climate Change (by Noel Brinkerhoff)
Recent Academy of Sciences Reports on Climate Change were Partially Funded by CIA (by Noel Brinkerhoff, AllGov)
In Reverse of Bush Policy, CIA to Share Data with Scientists (by Noel Brinkerhoff, AllGov)