Pentagon Devises Strategy for Responding to "Immediate Risk to National Security"—Climate Change
Wednesday, October 15, 2014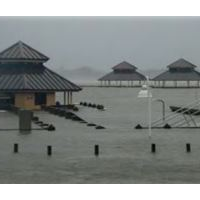 Flooding at Keesler Air Force Base, Mississippi (photo: Sgt. Kimberly Rae, Department of Defense)
Climate change is no longer something to worry about down the road, Defense Secretary Chuck Hagel said this week, but rather represents an immediate concern to national security.
Hagel, who once fought efforts to abide by international polices to stem global warming, presented a new Pentagon report (pdf) that spells out why the military must begin now to prepare for the effects of climate change.
Climate changes are likely to cause numerous negative consequences that will demand the attention of U.S. armed forces, including more risks of terrorism, food shortages, disease and poverty, according to the report. That's why the military will start amending its strategic planning and preparation for warfare in order to better respond to crises brought on by or exacerbated by climate change.
"The loss of glaciers will strain water supplies in several areas of our hemisphere," Hagel told a group of defense ministers meeting in Peru, according to The New York Times. "Destruction and devastation from hurricanes can sow the seeds for instability. Droughts and crop failures can leave millions of people without any lifeline, and trigger waves of mass migration."
Until now, the Defense Department said it was mostly concerned with how climate change could affect U.S. military bases. But Hagel says the global phenomenon demands a broader approach to mission planning. Considerations might include paying closer attention to how drought and weather changes could produce unrest in volatile regions like the Middle East and require appropriate responses from the U.S. Navy and other services.
Some say that climate change could have even produced the conditions that spawned the rise of the Islamic State in Syria and Iraq. "Climate change and water shortages may have triggered the drought that caused farmers to relocate to Syrian cities and triggered situations where youth were more susceptible to joining extremist groups," Marcus D. King, an expert on climate change and international affairs at George Washington University, told the Times.
The Times' Coral Davenport noted that Hagel, while serving as a Republican U.S. senator from Nebraska, once helped prevent the Clinton administration from joining the Kyoto Protocol, the first global treaty addressing climate change.
-Noel Brinkerhoff
To Learn More:
Pentagon Signals Security Risks of Climate Change (by Coral Davenport, New York Times)
Pentagon: Global Warming Will Change How US Military Trains and Goes to War (by Suzanne Goldenberg, The Guardian)
2014 Climate Change Adaptation Roadmap (U.S. Department of Defense) (pdf)
House Republicans Clash with Pentagon over Climate Change and National Security (by Noel Brinkerhoff and Steve Straehley, AllGov)
U.S. Military Plans Policy Shift in Response to Anticipated National Security Threats Caused by Climate Change (by Noel Brinkerhoff, AllGov)