Recent Academy of Sciences Reports on Climate Change were Partially Funded by CIA
Tuesday, February 17, 2015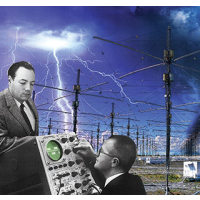 (AP graphic)
A voluminous scientific study on climate change and man-made possibilities of altering it was funded by several federal agencies, including the Central Intelligence Agency (CIA).
The CIA's decision to partially fund the research left at least one expert who participated in the study a little uneasy.
Scientist Alan Robock at Rutgers University told The Guardian the CIA's investment in the $630,000 study "makes me really worried who is going to be in control" of efforts to stem the impact of climate change.
In addition to the CIA, the National Aeronautics and Space Administration, the Department of Energy, and the National Oceanic and Atmospheric Administration funded the National Academy of Sciences research that produced two reports within the study.
One report addressed ways to remove carbon dioxide from the atmosphere, and the other looked at ways to alter cloud cover or change the planet's surface to make it reflect more sunlight back into space.
The CIA never explained to the academy why it was funding the project.
But Robock became suspicious after two CIA consultants contacted him inquiring about the possibility of another country gaining control of the weather.
"They said: 'We are working for the CIA and we'd like to know if some other country was controlling our climate, would we be able to detect it?' I think they were also thinking in the back of their minds: 'If we wanted to control somebody else's climate could they detect it?'" he told The Guardian.
He said that he told the consultants that any attempt to generate large, climate-changing clouds would be noticed by weather satellites or other equipment used to monitor the atmosphere.
The CIA didn't respond to a press inquiry about its involvement and has previously refused to confirm its role in the study. In 2013, CIA spokesman Edward Price told Mother Jones: "It's natural that on a subject like climate change the Agency would work with scientists to better understand the phenomenon and its implications on national security."
Using the weather as a weapon is forbidden under international law, per the Environmental Modification Convention of 1978.
The agency's inquiry left Robock concerned. "I'd learned of lots of other things the CIA had done that didn't follow the rules," he said. "I thought that wasn't how my tax money was spent."
The CIA opened its own climate change office in 2009 but shut it down three years later after criticism from some Republicans who called it a distraction from the agency's focus on combatting terrorism.
-Noel Brinkerhoff
To Learn More:
Spy Agencies Fund Climate Research in Hunt for Weather Weapon, Scientist Fears (by Ian Sample, The Guardian)
CIA Backs $630,000 Scientific Study on Controlling Global Climate (by Dana Liebelson and Chris Mooney, Mother Jones)
C.I.A. Closes Its Climate Change Office (by John Broder, New York Times)