California First State to Ban Secret Grand Juries in Deadly Police Encounters
Saturday, August 15, 2015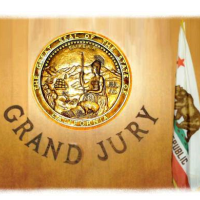 Grand juries, which operate in secrecy, have gotten a lot of bad publicity around the country for decisions not to indict police officers involved in violent deaths of African-Americans. In California district attorneys rarely use grand juries in such cases, and starting in January won't do it at all.
On Tuesday, Governor Jerry Brown signed Senate Bill 227, making California the first state to explicitly restrict grand juries from hearing police deadly-force cases. Connecticut doesn't allow anyone to be indicted by grand juries, whose detractors liken them to the Star Chamber, popularized by England's Henry VII in the late 15th century.
Instead of a secret panel determining who is charged and what the charges are, district attorneys will decide whether to bring charges with, perhaps, a bit more transparency.
The bill's author was explicit about why she thought SB 227 was necessary. "The use of the criminal grand jury process, and the refusal to indict as occurred in Ferguson and other communities of color, has fostered an atmosphere of suspicion that threatens to compromise our justice system," state Senator Holly Mitchell (D- Los Angeles) said in a statement.
The legislation was opposed by the California District Attorneys Association (CDAA), the California Grand Jurors' Association and the California Police Chiefs Association, who don't want prosecutorial options limited. The DA association's CEO, Mark Zahner, told the San Jose Mercury News there would be no more transparency and said, "It's absolutely ludicrous to espouse or believe that police officers get treated any differently than anyone else."
The association also argued that California laws concerning grand juries were more restrictive than in other states and at the federal level. DA's in California can't introduce hearsay and have to reveal exculpatory evidence that might make their case look bad.
But they lost those arguments in the Assembly and state Senate on votes that followed party lines.
Grand juries were controversial before the shooting of black people by police officers exploded in the public consciousness at Ferguson, Missouri, and was sustained by daily tales of deadly confrontation. The grand jury in Ferguson chose not to indict after the prosecutor smothered them in thousands of pages of evidence and testimony, but gave them little direction in sorting things out and did not recommend a charge.
Grand juries are heavily influenced by district attorneys, who can use them and the secrecy of the process to carry out policies and make decisions they would shy away from in a public forum. An unnamed grand juror in the Ferguson case sued in federal court (pdf) for the right to speak out about the decision not to indict Darren Wilson, the officer who shot and killed Michael Brown. And St. Louis County prosecutor Bob McCulloch even admitted that he allowed false testimony to be presented before that grand jury, revealing after the fact that he knew that alleged eyewitness Sandra McElroy wasn't actually present at the shooting and based her testimony instead on news reports.
Although there are no exact figures on how many people are killed by police each year, the Federal Bureau of Investigation (FBI) says local police departments voluntarily report around 400 "justifiable homicides." The web site Killedbypolice.net counted 727 police killings between January 1, 2015 and August 12.
-Ken Broder
To Learn More:
Gov. Brown OKs Nation's 1st Ban on Grand Juries in Police Shootings (by Tracey Kaplan, San Jose Mercury News)
California Eliminates Use of Grand Juries to Probe Police Killings of Civilians (by Melody Gutierrez, San Francisco Chronicle)
Gov. Brown Signs Law Barring Grand Juries in Police Deadly Force Cases (by Melanie Mason, Los Angeles Times)
Grand Jury System, With Exceptions, Favors the Police in Fatalities (by James C. McKinley Jr. and Al Baker, New York Times)
It's Incredibly Rare for a Grand Jury to Do What Ferguson's Just Did (by Ben Casselman, Five-Thirty-Eight)
Ferguson Grand Juror Sues for Right to Speak Out (by Noel Brinkerhoff, AllGov)
How Many People are Killed by Police in U.S.? Who Knows? (by Steve Straehley, AllGov)