Bayer Ordered to Halt Ads Describing Its Pesticide, Which is Toxic to Bees, as "Vitamins for Plants"
Thursday, November 03, 2016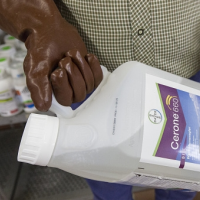 Bayer employee holds container of pesticide at Crop Science test farm (photo: Bloomberg/Getty Images)
By Zack Huffman, Courthouse News Service
BOSTON (CN) — Bayer Crop Science, the world's largest agrochemical company, buckled to Massachusetts' demand that it stop advertising that its neonicotinoid pesticides are like "giving 'a daily vitamin' to plants," though the chemicals have been linked to honeybee colony collapse disorder.
Attorney General Maura Healey filed an Assurance of Discontinuance on Oct. 26 in Suffolk County Court to settle the dispute, which her office began investigating in September 2013. Bayer Cropscience promised to pay $75,000 and to stop its misleading advertising, for instance, that its neonicotinoid pesticide products are EPA-approved.
"Bayer made numerous misleading claims to consumers about the safety of its pesticide products, including falsely advertising that they were similar to giving 'a daily vitamin' to plants, when in fact, they are highly toxic to honey bees and other pollinators in the environment," Healey said in a statement.
The attorney general called the settlement "an unprecedented step from a major pesticide manufacturer to promote truth in advertising for consumers about products that expose bees and the environment to harm and in turn also impact farming and food production."
The lawn and garden products, which include Bayer Advanced All-in-One Rose and Flower Care, Bayer Advanced 12 Month Tree & Shrub Protect and Feed II, and Bayer Advanced Season Long Grub Control Plus Turf Revitalizer, contain imidacloprid and/or clothianidin, which belong to a family of synthetic chemicals called neonicotinoids.
Neonicotinoids are systemic chemicals designed to spread their toxin throughout the plant, including the pollen, where the toxic pesticides are picked up by pollinators.
An EPA report this year found possible links between neonicotinoid pesticides and honeybee colony collapse disorder, which destroyed more than 10 million beehives from 2007 to 2012. One-fourth of the American diet depends on honeybee pollination, according to the U.S. Department of Agriculture. Worldwide, crops worth more than $200 billion a year depend on honeybee pollination, and colony collapse disorder has driven up farmers' costs of renting pollinating hives by 20 percent or more.
Neonicotinoid exposure on land and water also has been associated with adverse effects on fish, amphibians, birds and bats.
Healy claimed that Bayer deceptively advertised that its products were safe for the environment, particularly bees, and that gardeners should use as much as of the product as possible for preventative purposes and that the EPA approved of its ingredients.
Healy's office also investigated Scotts Miracle-Gro, but dropped the investigation after Scotts decided to phase out neonicotinoids from its lawn and garden products this year.
Bayer Crop Science spokesman Jeff Donald challenged what he called "exaggerated" claims from the attorney general's office regarding the use of nicotinoid pesticides.
"Crop Science maintains that the attorney general's office fundamentally misunderstands the science and extensive body of research related to pollinator health, refusing throughout the three-year period Bayer's repeated offers to provide experts in this field to discuss the science," Donald said.
The spokesman also pointed out that the Healey's office settled for partial reimbursement of costs after three years of investigation failed to yield direct support for the state's claims.
To Learn More:
Minnesota Limits Pesticides to Protect Bees (by Steve Karnowski, Associated Press)
Bayer Rejects EPA Request to Pull Insecticide from U.S. Market (by Karl Plume, Reuters)
USDA Accused of Suppressing Research Linking Pesticide to Widespread Bee Deaths (by Noel Brinkerhoff and Steve Straehley, AllGov)
Federal Court Revokes EPA's Approval of Insecticide Linked to Collapse of Bee Populations (by Ken Broder and Noel Brinkerhoff, AllGov)
Pesticides Suspected in Deaths of Birds and Bees (by Noel Brinkerhoff and Steve Straehley, AllGov)