Audio Recordings Reveal False Information Spread by Wisconsin DMV on State's Voter ID Law
Wednesday, October 05, 2016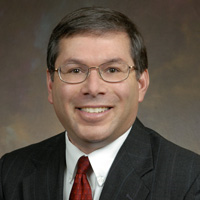 Wisconsin Transportation Secretary Mark Gottlieb
By Scott Bauer and Todd Richmond, Associated Press
MADISON, Wis. (AP) — Wisconsin's voter ID law should be suspended for next month's election in light of new audio recordings revealing state Division of Motor Vehicles workers giving inaccurate information about what's required to vote, a liberal advocacy group argued in a motion filed Tuesday in federal court.
The motion from One Wisconsin Institute argued that the state is "nowhere close" to being in compliance with a federal court order detailing how the law should be administered. It was filed just hours after the head of the state Department of Transportation tried to reassure lawmakers that front-line workers would receive additional training with the election just five weeks away.
"Clearly, we take seriously some of the recent news reports about allegations we didn't provide accurate information or provided wrong information," DOT Secretary Mark Gottlieb said in a public hearing.
Wisconsin law requires voters to show photo identification at the polls and allows for state ID cards to be provided free of charge. In May, the transportation department adopted regulations allowing people who lack the supporting documents such as birth certificates needed to obtain an ID to get a receipt they can use for voting. The rules dictate that the receipts must be mailed within six days of applying.
The recorded statements from DMV workers, provided to The Associated Press and quoted in the legal filing, seem to conflict with those rules. On one recording from Sept. 28, a DMV worker in Hudson tells a person asking for an ID that she's not guaranteed to get one.
A DMV worker in Rice Lake told a woman "it's possible" she could get an ID in time for the election, but "there's no guarantees." DMV workers in Black River Falls and Wisconsin Rapids incorrectly say that no temporary voting credentials are available.
And in Neillsville a DMV worker says it could take weeks to get an ID without a birth certificate. The recordings revealed that DMV workers in Adams, Chippewa Falls and Menomonie gave mostly correct information.
"This evidence makes clear that the State does not have — and is incapable of implementing — a functioning safety net for its strict voter ID law," attorneys for One Wisconsin Institute argued in the motion.
The American Civil Liberties Union filed a similar motion last week in a separate voter ID challenge before the 7th U.S. Circuit Court of Appeals.
Attorney General Brad Schimel's office, which is defending the voter ID law in court, has insisted that DMV workers have been trained to tell people without birth certificates that they will get credentials for voting within six days. Schimel's spokesman Johnny Koremenos did not immediately respond to a request for comment on the latest motion to put the voter ID law on hold.
Gottlieb told lawmakers Tuesday nearly all of the DMV's 400 employees had already taken an online training course related to voter ID, but another course was being launched that all workers must complete by the end of the week. He said supervisors have also been asked to have one-on-conversations with their workers about receipt protocols.
U.S. District Judge James Peterson in July struck down a host of election-related laws as unconstitutional, including limits on early voting. While he left the voter ID law in place, Peterson ordered the state to improve the way it gives credentials to people who don't have birth certificates or face other challenges to getting IDs.
A previously released recording by the group VoteRiders revealed three DMV workers giving incorrect information to a Madison man about whether he could get an ID without a birth certificate. Reports about that recording motivated Peterson to say last week that the state appeared to not be in compliance with his July order to promptly issue voting credentials to anyone who lacks documents needed to get an ID. Peterson ordered the state to investigate and report back to him by Friday.
Gottlieb told the Legislature's rules committee that investigation is continuing but has been hampered because investigators lack the full transcripts of the exchanges in the offices.
The rules committee, which is controlled by Republicans, voted Tuesday to extend the credential protocols until early December. The three Democrats on the panel voted against the extension, saying DOT can't make the process work and DMV employees are discouraging people from voting.
To Learn More:
Judge Rules Wisconsin Photo ID Law Unconstitutional...but Good Enough for November Election (by Molly Wilms, Courthouse News Service)
Seeing Intentional Effort to Suppress Black Vote, Judge Strikes Down Part of Wisconsin Voter ID Law (by Jack Bouboushian, Courthouse News)
15 States Wielding New or Stricter Voter ID Laws in Run-Up to Presidential Election (by Michael Wines and Manny Fernandez, New York Times)
State Courts Versus Republican Efforts to Limit Voting: Wisconsin (by Noel Brinkerhoff, AllGov)