State Courts Versus Republican Efforts to Limit Voting: Wisconsin
Tuesday, September 04, 2012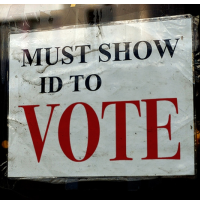 Republicans in Wisconsin are hoping to reinstate a voter ID law nullified by two courts earlier this year.
Attorney General J.B. Van Hollen filed a series of requests with the state Supreme Court in an attempt to implement the requirement that voters present photo identification at polls before the November election.
The voter ID law, which GOP lawmakers and Governor Scott Walker adopted, was declared unconstitutional in March by Circuit Judge Richard G. Niess.
A second judge, David T. Flanagan, ruled the law invalid in July following a nonjury trial.
Niess was appointed by Governor Jim Doyle, a Democrat, in 2004 and then elected in 2011. Flanagan was appointed by Governor Tommy Thompson, a Republican, in 1999 and then elected in 2012.
-Noel Brinkerhoff
To Learn More:
Wisconsin Attorney General Seeks To Restore Voter-ID Law (by Andrew Harris, Bloomberg)