As Economy Improves, Army has Trouble Meeting Recruiting Goals…and so Does FBI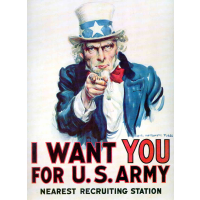 With more competition from a growing private-sector economy, the Army has come up short in filling its available slots for recruits.
The Army has recruited 14% fewer soldiers, according to USA Today. For the first 10 months of the fiscal year, only about 50,000 have signed up. The Army hopes to have 59,000 new recruits by September 30, the end of the fiscal year.
"It is a challenging mission, and we're not going to get around that," Maj. Gen. Jeffrey Snow, who's in charge of recruiting, told USA Today. "And there are indications that the economy is going to continue to improve."
The lower numbers are coming despite recruiters making more appointments with prospective soldiers. In 10 months, they made 415,000 appointments to get the 50,000 signees. During the same period last year, 371,000 appointments yielded 52,000 recruits.
The Navy, Marine Corps and Air Force have filled their available slots, USA Today reported.
One thing the Army isn't doing to fill its ranks is cut its standards. During the height of the Iraq and Afghan wars, the armed services lowered educational and other standards to ensure they had enough men to fight two wars. The Army hasn't resorted to that so far.
Another government agency having recruiting trouble is the Federal Bureau of Investigation (FBI), which has found it difficult to hire all the computer experts it needs to conduct its cybersecurity operations, according to a report (pdf) by the Justice Department's inspector general. Specifically, "the FBI did not hire 52 of the 134 computer scientists for which it was
authorized; and 5 of the 56 field offices did not have a computer scientist assigned to that office's Cyber Task Force."
The FBI has found that it can't match salaries offered by the private sector. In addition, its strict background checks weed out those who have smoked marijuana within three years or used other drugs within 10 years.
Money doesn't appear to be the prime motivation behind the cybersecurity experts the bureau does get. "Still, although recruitment and retention of skilled cyber professionals is challenging for the FBI, most of the FBI cyber agents we interviewed told us that it is the FBI's mission that motivates them to stay at the FBI rather than leave for more lucrative positions," the inspector general found.
-Steve Straehley
To Learn More:
Army Faces Recruit Deficit, May Miss '15 Goal (by Tom Vanden Brook, USA Today)
FBI Understaffed To Tackle Cyber Threats, Says Watchdog (by Lindsay Dunsmuir, Reuters)
Audit of the Federal Bureau of Investigation's Implementation of Its Next Generation Cyber Initiative (Office of the Inspector General, U.S. department of Justice) (pdf)
Military Recruiting Increasingly Aimed at Children (by Steve Straehley, AllGov)
Three Quarters of 17 to 24-Year-Olds Unqualified to Serve in the Military (by Noel Brinkerhoff and David Wallechinsky, AllGov)