30 Months Later, Flint Residents Trust neither the Water nor the Officials
Wednesday, October 12, 2016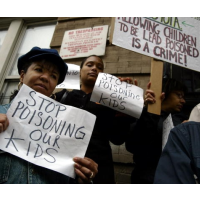 Protest demonstration by Flint residents (photo: Getty.)
By Julie Bosman, New York Times
FLINT, Mich. — By the sunken standards of life in Flint, Kenneth Glover is lucky.
Last month, a construction crew arrived at his house, removed the aging, corroded lead waterline leading up to it and installed a new copper pipe in its place. His house became one of fewer than 200 in Flint to have received a new pipe through a city-run program, with thousands more on the waiting list.
That matters not a whit to Glover. He still will not drink the water.
"I don't even give it to my dog," said Glover, who works in a General Motors plant, as he stood outside his home last week. "I don't care how many filters they give us. I don't care what they say. How can I trust them again?"
It has been one year since officials in Flint urged city residents not to drink the water.
Since then — as an investigation continues into the failed response at the city, state and federal levels — officials have pointed to progress in repairing the city's lead-tainted water system: Water from the Flint River is no longer used in favor of the city's former source, the Detroit system, which gets water from Lake Huron.
The state environmental authority in Michigan said this past week that more than 90 percent of recent water samples in Flint were below concerning lead levels.
Yet the fears over using the water have scarcely subsided for Flint residents. They are deeply suspicious of government officials, who for much of 2014 and 2015 reassured them that the water flowing from the Flint River into their taps was perfectly safe, despite its foul odor and appearance and the way it seemed to be making people sick. Many who live here are convinced that the water will never be acceptable again.
This fall, an effort to replace pipes leading to Flint homes is finally fully underway, delivering some promise of a return to normalcy here. City officials have predicted that 1,000 houses will receive new pipes before winter. The U.S. House of Representatives last month approved a bill promising $170 million in drinking water upgrades to cities like Flint.
But many of the residents whose water lines have been replaced through the city program are still recoiling at the thought of drinking the water that is flowing into their homes.
Glover, for instance, said he had no plans to change habits developed over the past two years of lead-tainted turmoil in Flint: He uses tap water for washing dishes, for mopping floors, for the briefest of showers. But he uses only bottled water for cooking, drinking and washing his face and hands.
He is so disgusted by the tap water that he is careful not to let the hand towel in his bathroom absorb a single drop of it.
He acknowledged that the water in his house looks and smells better these days. But he and others here cannot forget the stench when it was still coming from the Flint River. Showering still sometimes produces chalky white spots on his skin, he said, holding up his arm.
"It's like acid," Glover said. (Complaints of rashes and other skin irritations from Flint water have confounded health officials and even advocates, who have not been able to pinpoint a cause.)
In one neighborhood on the North Side of Flint last week, construction crews were at work on pipe replacement, a project that the city's mayor, Karen Weaver, is overseeing. The crews moved from one block to the next in a pocket of Flint that was once pretty and neat, filled with two-story Cape Cod-style homes owned by employees at a nearby Buick factory.
Now the factory is closed and at least one-quarter of the houses appear to be vacant. Weeds have overtaken sidewalks, but neighbors say that the area is still relatively safe and that they keep an eye out for one another.
Denise Daniel, 45, stood at her front door, next to a stack of bottled water on the porch. The workers had already finished with her house, she said, but she refused to drink the tap water.
"I'm not going to touch it," she said. "It was messed up and they didn't tell us before. They can come out and test it all they want. I'm still not going to drink it."
Stacks of bottled water can be spotted throughout Flint, in garages, in living rooms, on side porches. Heaps of plastic empties also pile up, feeding another environmental problem; not everyone recycles them.
Emma Johnson, 74, is one of the many people in Flint using bottled water; she said she had received conflicting information about her tap water from people who routinely come to test it.
"They said it was OK, but not to drink it," she said with a soft chuckle. "I still don't know what that means."
State and city officials have urged Flint residents to use filtered water from their taps whenever possible; the filters are available free. "We need to move the water in Flint if we want to move Flint forward," Gov. Rick Snyder said in a statement Wednesday, noting that the recovery of the water system is enhanced when residents run taps frequently.
"Scientifically, the Flint tap water treated by the lead filters is currently as safe, or safer, than tap water in other U.S. cities," Marc Edwards, a scientist from Virginia Tech who helped expose lead contamination in Flint, said in an email. "But the loss of trust is so profound, and the sense of betrayal so complete — some Flint residents will never consume or bathe in tap water again. Given their personal experiences, I would not call that unreasonable."
The distrust is so ingrained that some people in Flint are not washing their hands enough, a factor in a recent outbreak of shigellosis, a contagious infection that can cause severe diarrhea, fever and stools containing blood and mucus, health officials said.
Laura Sullivan, a professor of mechanical engineering at Kettering University in Flint who has worked closely with officials on solving the crisis, was among the sick, hospitalized for several days in July with shigellosis.
She washes her hands frequently and has not been able to definitively pinpoint the cause of her infection.
But Sullivan, too, is afraid of the water, and she said convincing others in Flint that it is fit to drink is a long way off.
"It's difficult to convince people once they're aware that it has been unsafe that it is now safe," she said. "The messenger that says the water is safe can't come from the state government. They've already ruined their potential to be someone who can be trusted."
To Learn More:
6 More Michigan State Workers Charged in Flint Water Cover-Up (by Mike Householder and Jeff Karoub, Associated Press)
Michigan Official's Alleged Refusal to Follow Routine Lead Corrosion Prevention Plan Led to Flint Water Poisoning (by John Flesher, Associated Press)
Michigan Officials Accused of Blocking Flint Water Investigation (Reuters)
Flint Official Warned Against Water Switch (by John Flesher, Associated Press)
Gov. Rick Snyder's Top Officials Knew of Flint Water Link to Disease Surge 10 Months before Snyder Told Public (by David Eggert and Ed White, Associated Press)