23% of Plants Sold at U.S. Retail Outlets are treated with Pesticides that Kill Bees
Wednesday, August 31, 2016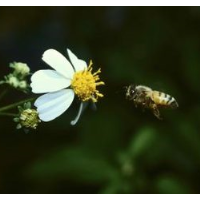 (photo: Hemera Technologies/Photos.com/Getty Images)
By Susan Salisbury, New York Times
WEST PALM BEACH, Fla. -- Planning on picking up a flowering plant at your local garden center to attract bees? If you're thinking it hasn't been treated with harmful pesticides, think again.
While there's less chance than there used to be that so-called bee-friendly home garden plants have been pre-treated with pesticides shown to harm and kill bees, they're still being sold.
A report released last week by Friends of the Earth and the Pesticide Research Institute showed that 23 percent of such plants sold at Home Depot, Lowe's, Ace Hardware, True Value and Walmart have been treated with a class of bee-toxic pesticides known as neonicotinoids.
The report, Gardeners Beware 2016 (pdf), is a follow-up to testing conducted in 2013 and 2014 that demonstrated the presence of bee-toxic neonicotinoid insecticides in more than half of bee-attractive flowers tested.
Neonicotinoids are systemic pesticides, which are distributed throughout the plant, including to pollen and nectar. They are among a number of factors, such as parasites, diseases and others, implicated as possible contributors to population declines in bees and other pollinators.
Bees and other pollinators are essential for everyone.
The reduction in the percentage of pre-treated plants identified in stores is likely due to changes in store policies that commit retailers to eliminate neonicotinoid use on garden plants. Retailer commitments are having a ripple effect in production methods by suppliers and have reduced the use of neonicotinoids in common garden plants overall, the report says.
Some large retailers, including Home Depot, Lowe's, Whole Foods and BJs Wholesale Club, have made commitments to phase out the use of these pesticides. Ace Hardware, True Value and Walmart have not yet made similar commitments.
"The market is shifting away from selling bee-killing pesticides, and retailers including Ace Hardware and True Value are lagging behind their competitors," said Tiffany Finck-Haynes, food futures campaigner with Friends of the Earth. "We are calling on all retailers to do their part to save bees and adopt formal policies to eliminate neonicotinoid pesticides."
The study sampled and analyzed 60 types of plants in 12 states for neonicotinoid residue. Florida stores were not included in the sampling.
Susan Kegley, an author of the report along with Finck-Haynes and Lisa Archer of Friends of the Earth, said it's still not possible for consumers to know that the plants they purchase are safe for bees and other pollinators.
A Greenhouse Grower's 2016 State of the Industry Survey (pdf) found 74 percent of growers who supply mass merchants said they will not use neonicotinoid insecticides in 2016.
Jeannie Economos, pesticide safety and environmental health project coordinator, Farmworker Association of Florida, said farmworkers are also at high risk from the pesticides which have been shown to have environmental and human health effects.
Consumers are advised to tell nursery managers they will only purchase plants free of neonicotinoids.
Avoid using bee-toxic pesticides in your yard. To combat pests, use insecticidal soaps or oils instead.
To Learn More:
Gardeners Beware 2016 (Friends of the Earth) (pdf)
Minnesota Limits Pesticides to Protect Bees (by Steve Karnowski, Associated Press)
EPA Finds Pesticide Harm to Honeybees Depends on the Kind of Crop (by Seth Borenstein, Associated Press)
USDA Accused of Suppressing Research Linking Pesticide to Widespread Bee Deaths (by Noel Brinkerhoff and Steve Straehley, AllGov)
Federal Court Revokes EPA's Approval of Insecticide Linked to Collapse of Bee Populations (by Ken Broder and Noel Brinkerhoff, AllGov)
Pesticides Suspected in Deaths of Birds and Bees (by Noel Brinkerhoff and Steve Straehley, AllGov)