U.S. Ambassador to Kosovo: Who Is Greg Delawie?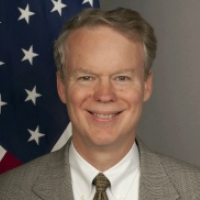 Greg Delawie was nominated March 3, 2015, by President Barack Obama to be the next ambassador to Kosovo. If he's confirmed, it would be the first ambassadorial posting for Delawie, a career foreign service officer.
Delawie is from San Diego, where his father, Homer, was a prominent modernist architect. Delawie went to Harvard, graduating with a degree in economics in 1980.
His early State Department career included stops in Ankara, Turkey; Frankfurt, Germany; and assignments in Washington as a watch officer, desk officer for the Organization for Economic Cooperation and Development and work on human resources policy and aviation security.
From 1994 to 1996, Delawie was deputy division chief of the Developed Country Trade Division in the Bilateral Trade Affairs Office of the Bureau of Economic and Business Affairs. He then went to the U.S. embassy in Rome as economic counselor. Delawie returned to Washington to the Bureau of Human Resources and in June 2001 was named director of the bureau's coordination office, a post he held until July 2003.
Delawie went overseas in August 2004 as deputy chief of mission in Zagreb, Croatia. In August 2007 he was back in the U.S. as director of the Bilateral Trade Affairs Office of the Bureau of Economic and Business Affairs and as director of trade policy and programs. He promoted free trade agreements with South Korea, Colombia and Panama.
A year later, Delawie was named deputy assistant secretary in the Bureau of Political-Military Affairs, where he was the U.S. representative to the Contact Group on Piracy Off the Coast of Somalia. He also led talks with Vietnam on regional security, military cooperation and humanitarian issues.
In August 2009, Delawie took over as deputy chief of mission in Berlin, serving there until July 2012 when he returned to Washington as deputy assistant secretary for European security, technology and implementation verification in the Bureau of Arms Control, Verification and Compliance, where he still serves as he awaits Senate confirmation to the Kosovo post. There he's responsible for the Offices of Euro-Atlantic Security Affairs; Verification, Planning, and Outreach; and the Nuclear Risk Reduction Center.
Delawie speaks German, Italian, Croatian and Turkish. His wife, Vonda, is also a Foreign Service officer, working in the Bureau of International Narcotics and Law Enforcement. The couple have two children.
-Steve Straehley
To Learn More:
State Department Cables 2004-2010 (WikiLeaks)