Director of the Office of English Language Acquisition: Who Is José Viana?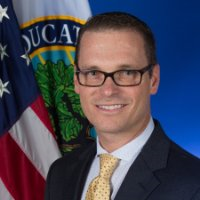 José Viana
President Trump named José Viana assistant deputy secretary of education and director of the Office of English Language Acquisition (OELA) on April 12, 2017. OELA awards federal grants to support the integration of non- or limited-English-speaking students into school systems around the country. OELA also supports professional development programs for teachers of English learners. Viana succeeds Libia Gil, who served starting in September 2013.
José Alejandro Viana was born September 3, 1969, in Miami. His father, also named José, was a political prisoner under Fidel Castro for several years. The young José spoke Spanish at home, and thus started his schooling as an English language learner. He earned a B.A. in Elementary Education and Teaching at Florida International University in 1992, an M.A. in Computer Education at Barry University in Miami in 1994, and an M.A. in Educational Leadership and Administration at Florida Atlantic University in 2006.
Even prior to finishing his undergraduate degree, Viana was teaching in the Miami-Dade Public Schools. From 1989 to 1999, he taught English as a Second Language to third through fifth grade students, while from 1999 to 2006, he taught geography, history, and technology at Herbert Ammons Middle School, which later became an International Baccalaureate school.
Also during these years, Viana was an adjunct professor of Education at Florida International University from 1994 to 2002. He also spent several months in 1999 teaching English as a Second Language to advanced placement high school students in Ostuni, Italy, through Global Volunteers.
In 2006, Viana left Florida and relocated to Durham, North Carolina, to serve as an administrator at Eno Valley Elementary School in Durham, North Carolina. He established a districtwide parent advisement committee to help ensure that low-income Latino children met academic standards.
After two years in Durham, Viana moved on to the North Carolina Department of Public Instruction, serving eight years as an administrator of the state's Migrant Education Program, which aims to help migrant students learn despite the huge obstacles that migratory labor entails. At the same time, Viana also served as the vice-chair of the governing board for the North Carolina Farmworker Health Program.
In 2016, Viana taught English as a Second Language for advanced placement high school students preparing for the test of English as a Foreign Language (TOEFL) in Beijing, China.
Viana and his wife, Aimee (Polanco), formerly senior executive director for marriage and family life in the Roman Catholic Diocese of Raleigh, North Carolina, have three children. Viana was previously married, to Martha Beatriz Amezquita, from 1994 to 1996. Viana's sister, Mercedes Schlapp, is a contributor to Fox News and a columnist for The Washington Times.
-Matt Bewig
To Learn More: