Chief Executive Officer of the Broadcasting Board of Governors: Who Is John Lansing?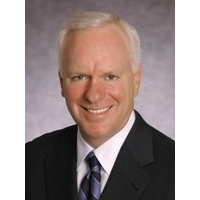 John Lansing (photo: Scripps Networks)
The Broadcasting Board of Governors on Aug. 17, 2015, appointed John Lansing, the former head of the Scripps Networks cable television programming empire, to be the head of the board. Lansing assumed the role vacated by former CBS executive Andrew Lack, who was in the job 42 days before leaving to head NBC News.
Lansing was born July 31, 1957, in Minneapolis. He graduated from St. Mary School in Paducah, Kentucky, in 1975 and at age 17 took a job as a news photographer for a local television station, WPSD. In 1980 he moved to Louisville's WAVE as that station's chief news photographer and subsequently the newsroom's managing editor. Lansing also started college in Louisville, attending Bellarmine University from 1983 to 1985 but leaving without a degree.
Lansing began a common television career path of staying a few years at a station and moving on. From 1986 to 1988, he was news director at WWMT in Grand Rapids, Michigan. He then returned to Minneapolis as assistant news director at KARE and two years later moved over to competitor WCCO as that station's news director. Lansing moved to Chicago in 1994 as WBBM's news director.
In 1995, Lansing moved into station management as vice president and station manager at WXYZ in Detroit. He moved to Cleveland's WEWS in 1997 as vice president and general manager. Both those stations were owned by the E.W. Scripps' media chain.
Lansing took over as Scripps' senior vice president for television in 2001 and was in charge of the 10 television stations the company owned at the time. He moved over to Scripps Networks, which managed cable television programming, in 2004. There, he was in charge of channels such as Food Network, HGTV, the Travel Channel, and others. It was a good time for Scripps Networks; revenue tripled under Lansing's watch to $2.1 billion in 2012.
Lansing did take time during his tenure with Scripps Networks to address some unfinished business—he returned to Bellarmine and earned his bachelor's degree in communication studies in 2009.
Lansing left Scripps in 2013 to become president and CEO of the Cable & Telecommunications Association for Marketing, where he was until accepting the BBG post.
BBG oversees Voice of America, Radio Free Europe/Radio Liberty, Radio and TV Martí, Radio Free Asia, and the Middle East Broadcasting Networks. The creation of the CEO job to help consolidate and streamline the management and operation of the board, which originally went to Lack, came as a result of an inspector general's report (pdf) that decried frequent vacancies on the board. Lansing started at the BBG in September 2015.
Lansing is married; he and his wife, Jean, have four children: Alex, Jackson, Nicholas, and Jennifer.
-Steve Straehley
To Learn More:
Scripps Networks Interactive Making Leadership Changes at Its U.S. Lifestyle Television Networks, Related Businesses (Scripps Networks)
John Lansing Named as New Chief of Broadcasting Board of Governors (by Ron Nixon, New York Times)