Chief Executive Officer, Broadcasting Board of Governors: Who Is Andrew Lack?
Saturday, February 28, 2015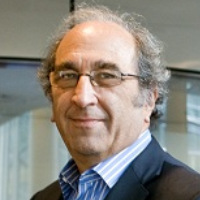 Former network and music executive Andrew "Andy" Lack was sworn in as the Broadcasting Board of Governors' (BBG) first chief executive officer on January 20, 2015.
Lack grew up in New York and originally wanted to be an actor after his mother took him to a Broadway performance of West Side Story. He attended New York's elite Browning School for Boys, whose alumni also include politicians Howard Dean and Sargent Shriver and JPMorgan Chase CEO Jamie Dimon.
To further his acting ambitions, Lack went to college at Boston University's College of Fine Arts, where he earned a bachelor's degree in 1968. Upon graduation, he took small theatre roles and did work in commercials and industrial films. In 1976 he began at CBS News as a producer at a soft-news show called "Who's Who." When that show was canceled, he moved over to "60 Minutes." There he produced a segment with Dan Rather about the Afghan rebels who were fighting the Soviet forces there. The piece is credited for inspiring then-Congressman Charlie Wilson's fight for the United States to fund the rebels, culminating in a military entanglement that continues 25 years later.
Lack moved up the ladder at CBS, becoming the executive producer of its magazine program "West 57th" from 1985 to 1989. When that show ended, he produced segments for other news programs, as well as two made-for-TV movies.
In 1993, Lack defected to NBC to become president and chief operating officer of NBC News in the wake of the scandal over the "Dateline" report that featured the rigged fiery crash of a General Motors pickup truck. Two years later, Lack oversaw the startup of the MSNBC news channel. A Los Angeles Times story at the time mentioned that the "news channel will be linked with an online network that will allow consumers to access NBC News footage on computer."
Lack became president of NBC in 2001, making him the network's No. 2 executive. But by 2003, the No. 1 executive, Bob Wright, didn't want to give up power at NBC as he took on more responsibility at corporate parent General Electric. Lack left NBC for a new business, taking over Sony's U.S. music division. He was hired by another former network head, Sony's Howard Stringer, who had led CBS.
One of Lack's first moves at Sony was to cut its staff by about 10%. He also helped push the music group's merger with Bertelsmann, creating Sony BMG Music Entertainment. However, Lack wasn't accepted by Bertelsmann management and in 2006 he was kicked upstairs to become the group's non-executive chairman.
Lack returned to his broadcast roots in October 2008 when he was named CEO of Bloomberg Media Group, responsible for the business news service's broadcast efforts. He was made chairman of the group in September 2013, where he remained until being tapped for the BBG post.
BBG oversees Voice of America, Radio Free Europe/Radio Liberty, Radio and TV Martí, Radio Free Asia, and the Middle East Broadcasting Networks. The creation of the CEO job that went to Lack came as a result of an inspector general's report (pdf) that decried frequent vacancies on the board.
Lack got off to a controversial start in his new job. In an interview with The New York Times, Lack spoke of the difficulty of his job and said: "We are facing a number of challenges from entities like Russia Today which is out there pushing a point of view, the Islamic State in the Middle East and groups like Boko Haram. But I firmly believe that this agency has a role to play in facing those challenges." Russia Today, a website and television channel run by the Russian government, blasted the comparison of their organization to terror groups.
Lack;s second wife, Betsy, is a contributing editor to Vanity Fair. They have two sons.
-Steve Straehley
To Learn More:
U.S. Seeking a Stronger World Media Voice (by Ron Nixon, New York Times)
Proud as a Peacock (by Phyllis Furman, New York Daily News)