Assistant Secretary of State for East Asian and Pacific Affairs: Who Is Danny Russel?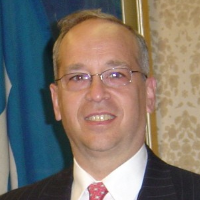 President Obama has chosen a career diplomat with extensive experience with East Asia, and Japan in particular, to serve as the next Assistant Secretary of State for East Asian and Pacific Affairs. Nominated on May 15, Daniel R. Russel has served on the National Security Council at the White House since 2009. If confirmed by the Senate, Russel will succeed Kurt Campbell, who had the job from the beginning of the Obama administration.
Born December 12, 1953, Russel earned university degrees at Sarah Lawrence College in 1975 and University College at the University of London, UK. After some international travel, he ended up in Japan, where he studied martial arts and Japanese. He worked as a manager for international Japanese firm in New York City from 1979 to 1985. He came to the conclusion that "the Japanese were doing too good a job figuring out America while we Americans were not doing enough to learn about the world and protect our interests."
This led Russel to join the Foreign Service in 1985. Not surprisingly, he was posted to Tokyo, where he served as assistant to Ambassador and former Senate Majority Leader Mike Mansfield until 1987. From 1987 to 1989, he served as vice consul in Osaka, and subsequently as branch office manager in Nagoya, Japan.
From 1989 to 1992, Russel worked at the United Nations in New York as political adviser to the U.S. permanent representative, Thomas Pickering, and was accredited to the Security Council.
Back in Asia, Russel served as political officer at the embassy in Seoul, South Korea, from 1992 to 1995, participating in the nuclear talks with North Korea that led to the Framework Agreement in 1994.
Spending the next several years stateside, Russel served as special assistant to the Under Secretary of State for Political Affairs, responsible for Asian affairs and international organizations, from 1995 to 1996. Awarded a State Department Una Chapman Cox Fellowship for 1996, Russel took a sabbatical and wrote a book, America's Place in the World, published by Georgetown University Press. He then went back to work for Thomas Pickering, serving as his chief of staff when Pickering was under secretary of state for Political Affairs from 1997 to 1999.
Russel then served three straight overseas postings, as deputy chief of mission at the embassy in Nicosia, Cyprus, from 1999 to 2002, as deputy chief of mission at the embassy in The Hague, Netherlands, from 2002 to 2005, and as U.S. consul general in Osaka-Kobe, Japan, from August 2005 to August 2008.
Back in Washington, Russel worked as director of the State Department Office of Japanese Affairs from August 2008 to January 2009. He then took a job with the Obama administration, serving as director for Japan, South Korea and North Korea at the National Security Council from January 2009 to 2011 and as special assistant to the president and senior director for Asian Affairs since then.
He is married to Keiko Abo Russel and has three children: Emily, Byron and Kevin.
-Matt Bewig
To Learn More:
Biography (Institute for Corean-American Studies)
Profile of Deputy Chief of Mission, Embassy, Nicosia, Cyprus (by Amalia Babayan, Diplomat.AM)