Ambassador of Kazakhstan to the United States: Who Is Yerzhan Kazykhanov?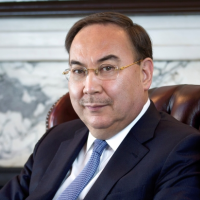 Yerzhan Kazykhanov
Since February 2017, the ambassador of Kazakhstan to the U.S. has been Yerzhan Khozeyevich Kazykhanov, a career diplomat who has served in the U.S. before. He presented his credentials to President Donald Trump on April 24, 2017. The largest of the former Soviet republics, since 1989 Kazakhstan has been ruled with an iron fist by President Nursultan Nazarbayev, whose human rights record has been condemned worldwide. Kazykhanov, who served as ambassador to the United Kingdom prior to this appointment, holds the diplomatic rank of ambassador extraordinary and plenipotentiary.
Born on August 21, 1964, in Almaty, Kazakhstan SSR, which was then part of the Soviet Union, Yerzhan Kazykhanov earned his bachelor's degree in Oriental Studies from the Leningrad [Saint Petersburg] State University in Russia, in 1987.
During his two-year stint in the Soviet Army from 1987 to 1989, Kazykhanov watched as the Soviet Union began to disintegrate around him. By the time his military service concluded, the USSR had barely two years left to live, and Kazakhstan was on the verge of autonomy and independence.
Kazykhanov has spent his entire career at the Kazakhstan Foreign Ministry, starting at the Protocol-Political Division in 1989, where he rose to chief by the time he left in 1995.
Kazykhanov served his first foreign posting from 1995 to 2000 as first secretary/counselor at Kazakhstan's Permanent Mission to the United Nations in New York. He served in Kazakhstan's capital, Astana, as director of the Department of Multilateral Cooperation from 2000 to 2003, and then returned to New York as Kazakhstan's permanent representative to the UN and as non-resident ambassador to Cuba from 2003 to 2007.
Back in Astana, Kazykhanov was deputy minister of Foreign Affairs from February 2007 to early 2008, and assistant to President Nazarbayev from February to December 2008.
Kazykhanov served as ambassador to Austria and permanent representative to international organizations located in Vienna, such as the International Atomic Energy Agency and the United Nations Industrial Development Organization, from December 2008 to February 2011.
Kazykhanov returned to Astana adeputy minister of foreign affairs from February to April 2011, and then as minister of foreign affairs from April 2011 to September 2012.
When it was released in 2006, Sacha Baron Cohen's mock documentary, Borat: Cultural Learnings of America for Make Benefit Glorious Nation of Kazakhstan, was banned in Kazakhstan. However, in April 2012, Kazykhanov admitted that the film had actually boosted the tourism industry in his country, noting, "For us, it is a great victory. I am grateful to Borat, the main character of the movie, for tourists' keen interest to (come to) Kazakhstan."
After again working as an assistant to President Nazarbayev from September 2012 to September 2014, Kazykhanov served as Kazakhstan's ambassador to the United Kingdom from September 2014 to February 2017.
Kazykhanov has written numerous scholarly articles and publications in Kazakh and other periodicals on multilateral diplomacy, Kazakh foreign policy, and the United Nations. He speaks Russian, English, and Arabic. He is married to Danara Kazykhanova, with whom he has a daughter and a son.
-Matt Bewig
To Learn More:
Erzhan Kazykhanov Becomes New Kazakhstan's Foreign Minister (Kazakhstan Foreign Ministry)