Acting Director of the U.S. Marshals Service: Who Is David Harlow?
Monday, February 20, 2017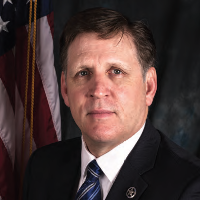 David Harlow
David L. Harlow became deputy director of the U.S. Marshals Service (USMS) in February 2014, a tenure that included a temporary seven-month stint as acting director. USMS is the nation's oldest federal law enforcement agency, responsible for apprehension of federal fugitives, protection of the federal judiciary, operation of the Witness Security Program, transportation of federal prisoners and seizure of property illegally obtained by criminals.
Harlow, who earned a B.A. degree in law enforcement administration from Western Illinois University, joined the U.S Marshals Service in 1983 as a deputy U.S. marshal. He served the agency as chief deputy for the northern district of Ohio until 2007. In the post, he was deputy commander of operation FALCON [Federal and Local Cops Organized Nationally] III and subsequently commander of operation FALCON 2007, for which he oversaw development of the Northern Ohio Violent Fugitive Task Force and Toledo's first fugitive apprehension team made up of numerous law enforcement agencies. From 2007 to 2008, he served as chief deputy U.S. marshal for the eastern district of Virginia.
Between 2008 and 2011, Harlow was chief of USMS's Sex Offender Investigations Branch, for which he oversaw the National Sex Offender Targeting Center and the Sex Offender Apprehension Program. He additionally developed the USMS Behavioral Analysis Unit, which helps target fugitive and non-compliant sex offenders.
In mid-2011, Harlow was named acting deputy assistant director of USMS's Investigative Operations Division (IOD). Then, in May 2012, he was made assistant director of IOD with a concurrent promotion to USMS's Senior Executive Service.
From 2012 to 2014, Harlow served as associate director for operations, managing the agency's Operational Directorate, the responsibilities of which include witness and judicial security; investigative, tactical and prisoner operations; and the justice prisoner and alien transportation system.
Eighteen months into his service as deputy director, Harlow was—on July 26, 2015—appointed acting director of the U.S. Marshals Service. That title expired on February 20, 2016, "in accordance with the Vacancies Reform Act," according to the U.S. Department of Justice (DOJ). However, on December 21, 2015, the DOJ ordered that Harlow be allowed to retain his position as deputy director until the end of the Obama administration in January 2017.
Harlow and his wife, Lisa, have two sons, Sean and Brian.
-Danny Biederman
To Learn More:
U.S. Marshals Service Balks at Use of Bodycams when they Work with Local Police (by Steve Straehley and Danny Biederman, AllGov)
U.S. Agencies' Use of Invasive Aerial Cell Phone Surveillance Detailed in Newly Released Documents (by Nathan Freed Wessler, Staff Attorney, ACLU Speech, Privacy, and Technology Project; ACLU)