Acting Director of the Indian Health Service: Who Is Mary L. Smith?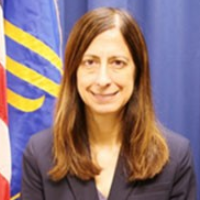 Mary L. Smith
Mary L. Smith, an attorney and enrolled member of the Cherokee Nation, took over the Indian Health Service in March 2016.
Smith was born in Chicago and attended Loyola University there, earning a B.S. in mathematics and computer science in 1984. She initially worked with computers, as a systems programmer for drug chain Walgreens and as a senior systems engineer at Northern Trust Bank, both in Chicago.
In 1988, she returned to Loyola to attend law school. After her first year, she transferred to the University of Chicago law school, where she earned her J.D. in 1991. Smith then clerked for Judge R. Lanier Anderson III of the Eleventh Circuit Court of Appeals.
After finishing her clerkship, Smith took a job at the Chicago law firm of Ross & Hardies. In 1994, she joined the Justice Department as a trial attorney in the civil division. She took time off in 1996 to work in President Bill Clinton's re-election campaign. In the spring of 1997, she was named associate counsel to the president, and associate director of policy planning for the administration's Domestic Policy Council.
When Clinton left office in 2001, Smith took a job at the firm of Skadden, Arps, Slate, Meagher & Flom. In 2005, she joined Tyco International and managed that company's response to a huge suit filed by shareholders after its former CEO, L. Dennis Kozlowski, and other company officials were charged with looting the company. Tyco eventually settled the suit for $3 billion. At the time, it was the largest recorded settlement of a class-action suit against a single company.
Smith left Tyco in 2007 to work on Hillary Clinton's presidential campaign. When Clinton dropped out of the race, Smith briefly went to work for the firm of Schoeman, Updike & Kaufman. After Barack Obama won the presidency, Smith was named to the Department of Justice transition team. In 2009, Obama nominated her to be Assistant Attorney General in charge of tax issues. However, Senate Republicans blocked her appointment, saying she was unqualified. Smith worked as a counselor in the Justice Department's civil division until 2011, when her nomination was turned down.
Smith left the administration and became general counsel for the Illinois Department of Insurance, where she worked on tax aspects of implementing the Affordable Care Act in that state.
Smith returned to the Obama administration in 2015, this time to the Indian Health Service, and took over the agency the following year upon the departure of Yvette Roubideaux.
-Steve Straehley
To Learn More:
Official Biography (pdf)