Assistant Secretary of State for East Asian and Pacific Affairs: Who Is Susan Thornton?
Sunday, December 24, 2017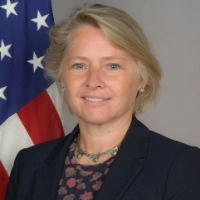 Susan Thornton
In a major political victory for Secretary of State Rex Tillerson over former White House advisor Steve Bannon, President Donald Trump has nominated Susan A. Thornton to lead the Bureau of East Asian and Pacific Affairs. Thornton, who has been acting assistant secretary since March 2017, was strongly opposed by Bannon, who bragged to an interviewer in August that he was "getting Susan Thornton out at State" because she was not sufficiently hawkish. If confirmed by the Senate, Thornton would succeed Daniel R. Russel, who served from 2013 to 2017.
Born circa 1963, Susan A. Thornton earned a B.A. in Economics and Russian at Bowdoin College in Maine in 1985. After working a couple of years at the Foreign Policy Institute in Washington, DC, where she focused on Soviet politics, Thornton earned an M.A. in International Relations at Johns Hopkins University School of Advanced International Studies in 1991.
Thornton joined the State Department as a Foreign Service officer in 1991, where her career has focused on relations with East Asia. She served early career foreign postings in two former Soviet Republics, at the embassies in Yerevan, Armenia, and Almaty, Kazakhstan, as well as serving as economic unit chief in the Office of Korean Affairs in the State Department.
Thornton served in China for seven years at the turn of the century, first at the U.S. consulate in Chengdu from 2000 to 2003 and then at the embassy in Beijing from 2003 to 2007 as political unit internal unit chief.
Back in Washington, Thornton served as deputy director for Chinese and Mongolian affairs from 2007 to 2009. She then moved to Russia, as the law enforcement counselor at the embassy in Moscow from 2009 to 2011.
Thornton lived in another former Soviet republic when she served as deputy chief of mission at the embassy in Ashgabat, Turkmenistan, from July 2011 to June 2014.
Since June 2014, Thornton has been part of the leadership team at the State Department's Bureau of East Asian & Pacific Affairs. She served as deputy assistant secretary from June 2014 to February 2016, when she became principal deputy assistant secretary. She was promoted to acting assistant secretary as of March 9, 2017.
She speaks Russian and Mandarin Chinese fluently. She learned Chinese while studying in Taiwan, where her daughter was born.
- Matt Bewig
To Learn More:
White House Nominates Bannon Foe As Top US Diplomat For Asia (by John Hudson, Buzzfeed)
Career Diplomat Susan A. Thornton to be Asst Secretary for East Asian and Pacific Affairs (by Domani Spero, Diplopundit)
State Department Cables 2006-2007 (WikiLeaks)
More State Department Cables 2006-2007 (WikiLeaks)