Secretary of State: Who Is Rex Tillerson?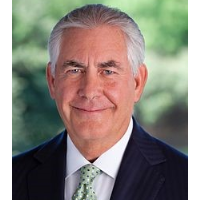 Rex Tillerson
Rex Tillerson, who has spent his entire working career at oil giant Exxon and has developed a close relationship with Russian President Vladimir Putin, was confirmed to be Secretary of State by a 56-43 U.S. Senate vote on February 1, 2017.
Tillerson was born March 23, 1952, in Wichita Falls, Texas, to Bobby Joe and Patty Sue Tillerson. He joined the Boy Scouts, beginning a relationship with the organization that lasts to this day, and eventually made the rank of Eagle. Tillerson graduated from Huntsville High School in 1970 and went to the University of Texas, where he played drums in the Longhorns' marching band. He earned a bachelor's degree in civil engineering in 1975.
Tillerson went to work for Exxon not long after graduation as a production engineer. In 1987, he was a business development manager in Exxon's natural gas department. He moved over to the company's central production division in 1989 as its general manager.
In 1992, Tillerson was named the company's production adviser and in 1998 was named vice president of Exxon Ventures and president of Exxon Neftegas, exploration projects based in and around Russia and other former Soviet republics. Tillerson, according to a leaked document published in The Guardian, was also a director of Exxon Neftegas. He was named executive vice president of Exxon Development in 1999, the year Exxon bought competitor Mobil to form ExxonMobil.
Tillerson was named senior vice president of ExxonMobil and in 2003 found himself one of two candidates to lead the company upon the retirement of chairman and CEO Lee R. Raymond. Tillerson was named president of ExxonMobil the following year. In 2006, he was named chairman and CEO after Raymond retired.
ExxonMobil's Russian connection remained at least as strong under Tillerson's leadership. ExxonMobil cut a deal with Russia in 2011 for a joint venture with Russia's Rosneft to explore for oil in the Russian Arctic as well as the Black Sea and tap Siberian shale oil deposits. The oil giant and Russia were so tight that in 2013, Putin awarded Tillerson the Russian Order of Friendship.
But in 2014, the collaboration was forced to end because of sanctions put into place by President Barack Obama after Russia invaded Ukraine. Not surprisingly, Tillerson opposed the sanctions. "We do not support sanctions, generally, because we don't find them to be effective unless they are very well implemented comprehensively," he said at the time.
At one point, Russia threatened to seize ExxonMobil's oil-drilling rig and the company won a brief reprieve from the sanctions. During that period, a field containing about 750 million barrels of oil was found.
There has been speculation that the sanctions were a big part of the reason for Russia's interference in the presidential race. Trump and Tillerson are seen as more likely to back the lifting of the restrictions. Tillerson has promised to recuse himself from decisions involving Exxon—but only during the first year of his term that's mandated by law. The oil deal with Russia has the potential for lasting decades.
Tillerson's connections with Russia had the potential for haunting him during his confirmation process. Sen. Marco Rubio (R-Florida) sits on the Senate Foreign Relations Committee, which had the responsibility of vetting Tillerson before his nomination was sent to the full Senate. Shortly after Tillerson was nominated, Rubio called him a "respected businessman" but added that any Secretary of State "must be someone who views the world with moral clarity [and who] has a clear sense of America's interests." However, when it came time to vote on Tillerson on January 23, Rubio fell into line with his fellow Republicans, saying he had to balance his concerns about Tillerson's coziness with Russia and other countries not friendly to the United States with his "extensive experience and success in international commerce, and my belief that the president is entitled to significant deference when it comes to his choices for the cabinet."
GOP Senator John McCain of Arizona also expressed initial misgivings about Tillerson's nomination. "I don't know what Mr. Tillerson's relationship with Vladimir Putin was, but I'll tell you it is a matter of concern to me," McCain said in December. However, by late January, McCain and colleague Lindsey Graham (R-South Carolina), who had also talked of opposing Tillerson, said they would support him when he came before the full Senate for a vote.
Russia wasn't the only place where Tillerson's company acted in opposition to American interests. In 2011, the company signed an oil deal with the Kurds who control Iraq's northern region. That agreement cut out the Iraqi central government.
And in Equatorial Guinea, ExxonMobil made deals with its strongman President Teodoro Obiang Nguema Mbasogo. Obiang's government tortures critics and disregards elections and has faced international tribunals for enriching Obiang's family with the country's oil wealth.
Becoming Secretary of State might even give Tillerson an opportunity to get back at an old foe. Venezuela nationalized the oil industry in that country, including ExxonMobil's properties. Tillerson sought $15 billion as compensation for the confiscation, but the World Bank's international arbitration court awarded the company only $1.6 billion.
Then, just before Trump's inauguration, Tillerson told a reporter: "If confirmed, I would urge close cooperation with our friends in the hemisphere, particularly Venezuela's neighbors Brazil and Colombia, as well as multilateral bodies such as the [Organization of American States], to seek a negotiated transition to democratic rule in Venezuela." In other words, kicking out the regime that had taken ExxonMobil's assets in the country.
Closer to home, Tillerson was found to be somewhat of a hypocrite in 2014 when he joined a lawsuit to block a water tower from being constructed near his ranch. The water tower was to be used by petroleum companies in their fracking efforts in the area.
When he spoke to the Council on Foreign Relations in 2012, Tillerson lauded the practice of fracking. "[Hydraulic fracturing] is an old technology just being applied, integrated with some new technologies," he said. "So the risks are very manageable."
He was singing a different tune two years later though. "The construction of the water tower will create a constant and unbearable nuisance to those that live next to it," the suit stated. "[The] water tower will have lights on at all hours of the night; traffic to and from the tower at unknown and unreasonable hours, noise from mechanical and electrical equipment needed to maintain and operate the water tower, and creates an unsafe and unattractive nuisance to the children in the area."
Tillerson's nomination has drawn approval in some corners, however. "Oil folks know stuff: anyone who manages multibillion dollar, multi-decade projects needs deep, nuanced understanding of political context," Suzanne Maloney, a former ExxonMobil employee who now works for the Brookings Institution, tweeted. "… Tillerson rose to top of a company that prizes technical excellence, rock-solid financials, hard work and integrity. State could do a lot worse."
And under Tillerson, ExxonMobil, which had internally acknowledged the dangers of global climate change as early as 1977, has finally publicly agreed with the scientific consensus on the subject. How that stance meshes with the opportunity to pull millions of barrels of carbon out of the Russian Arctic is yet to be seen, however.
Tillerson also helped liberalize another tradition-bound organization. He was president of the Boy Scouts of America from 2010 to 2012. While there, he moved the organization toward its 2013 vote to open the organization to gay Scouts. The ban on gay leaders remained in place until 2015, however.
At the time of his nomination, Tillerson owned 2.6 million shares of ExxonMobil stock worth $245 million. In 2016, he received a salary of $24.3 million. In order to become secretary of state, Tillerson gave up his shares and, in exchange, Exxon gave him a retirement package worth $180 million. He also owns the Bar RR Ranches in Bentonville, Texas.
Tillerson and his wife, Renda, whom he married in 1986, have four children.
-Steve Straehley
To Learn More:
Rex Tillerson Ethics Undertakings and Financial Disclosure Filing (New York Times)
3 Things That Could Happen to Rex Tillerson's $245 Million Exxon Windfall (by Stephen Gandel, Fortune)
Leak Reveals Rex Tillerson Was Director of Bahamas-Based U.S.-Russian Oil Firm (by Luke Harding and Hannes Munzinger, The Guardian)
Rex Tillerson Already Talking Regime Change in Venezuela (TeleSur)
Who Is Rex Tillerson, the ExxonMobil Chairman Who May Become Secretary of State? (by Philip Bump, Washington Post)
Rex Tillerson's Potentially Huge Conflict of Interest Over Russia and Oil, Explained (by Brad Plumer, Vox)
Under Rex Tillerson, Exxon Mobil Forged Its Own Path Abroad (by Ben Hubbard, Dionne Searcey and Nicholas Casey, New York Times)
Exxon CEO Joins Lawsuit to Block Water Tower Used for Fracking Near His Home (by Danny Biederman and Noel Brinkerhoff, AllGov)