Bahrain's Ambassador to the United States: Who Is Abdullah bin Rashid bin Abdullah Al Khalifa?
Thursday, September 07, 2017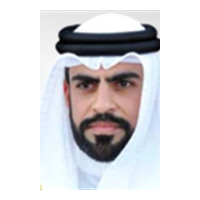 Abdullah bin Rashid bin Abdullah Al Khalifa
Sheikh Abdullah bin Rashid bin Abdullah Al Khalifa, a member of Bahrain's royal family, was appointed his country's ambassador to the United States in April 2017. It's his first such post. He presented his credentials to President Donald Trump on July 22, 2017. He replaces another member of the royal family, Abdullah bin Mohammed bin Rashid Al Khalifa.
Born in 1980, Al Khalifa is the son of Bahraini Interior Minister Lieutenant General Rashid bin Abdullah Al Khalifa. The younger Al Khalifa graduated from Ibn Khuldoon National School in 1997 and came to the United States for college. He earned a B.S. in management from Bentley College (now Bentley University) in Waltham, Massachusetts in 2001 and an MBA from the same school in 2003. Bentley opened a Bentley in Bahrain program in 2002.
Al Khalifa returned to Bahrain and was made head of educational affairs for the Royal Family Council. Two years later, he was director of education and the Social Affairs Directorate. In 2007, Al Khalifa was named director of planning and followup for the General Organization for Youth and Sports and the following year became the organization's human resources director.
In March 2010, King Hamad bin Isa Al Khalifa appointed Al Khalifa to a four-year term as governor of Bahrain's Southern Governorate, the largest such political division. He was reappointed in 2015.
Al Khalifa is also a member of the National Commission for Drug Control and the board of the Bahrain Olympic Committee. He was previously president of Bahrain's Weightlifting and Bodybuilding Federation and president of the Asian Bodybuilding Federation and a member of the board of directors of the Bahraini Archery Federation.
-Steve Straehley
To Learn More: