Bahrain's Ambassador to the United States: Who Is Abdullah bin Mohammed bin Rashid Al Khalifa?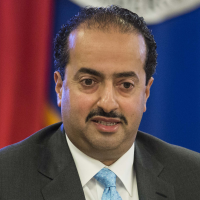 Abdullah bin Mohammed bin Rashid Al Khalifa presented his credentials as Bahrain's ambassador to the United States to President Barack Obama on December 3, 2013. It's the first ambassadorial post for al-Khalifa, but he's a veteran of the Washington diplomatic scene, having served as his country's military attaché to the United States and Canada since 2005.
Al Khalifa joined his country's air force in 1988, flying F-5, and then F-16 fighter planes. He fought in the 1991 Gulf War, when Iraq invaded neighboring Kuwait and later flew in the Iraq War as a mission commander flying over Kuwait. His last rank was lieutenant colonel.
Al Khalifa's public profile is much lower than that of his predecessor, Houda Nonoo, a woman who is a member of Bahrain's tiny—with fewer than 50 members—Jewish community. He is a member of Bahrain's royal family and is seen as a hardliner in the ruling Sunnis' dealings with the restive Shiite majority in the country. There were anti-government protests in 2011 in the capital of Manama and sporadic ones since, causing some officials in Washington to reconsider the status of the U.S. Navy base there, something Al Khalifa would like to avoid.
-Steve Straehley
To Learn More:
Bahrain's Next Ambassador in Washington (by Simon Henderson, Washington Institute)