Chair of the Federal Energy Regulatory Commission: Who Is Neil Chatterjee?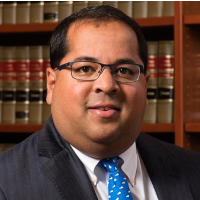 Neil Chatterjee (photo: FERC)
The Federal Energy Regulatory Commission (FERC), facing a large backlog of natural gas pipeline construction applications, now has the necessary quorum to vote on them, thanks to Senate approval of two new Republican members, Neil Chatterjee and Robert Powelson. Both favor continued use of fossil fuels despite the dangers posed by global warming. On August 10, 2017, President Donald Trump named Chatterjee chair of the Commission, succeeding Norman Bay, who served from April 2015 to February 2017. Chatterjee's FERC term will last until June 30, 2021.
Born July 16, 1976, Indranil "Neil" Chatterjee is the son of physicians and cancer researchers Sunil and Malaya Chatterjee. He grew up in Buffalo, New York, and Lexington, Kentucky, graduating Henry Clay Senior High School in Lexington in 1995. Chatterjee earned undergraduate degrees in Sociology and Psychology at St. Lawrence University in Canton, New York, in 1999, where he participated in the study abroad program in Vienna, and a J.D. at the University of Cincinnati College of Law in 2002.
Chatterjee began his career Washington in 2003 as an "awestruck" intern with the House Committee on Ways and Means, served as an aide to House Republican Conference Chair Deborah Pryce (R-Ohio) from 2004 to 2005, and served on the House Republican Policy Committee from 2005 to 2007.
After Democrats took control of the House in 2006, Chatterjee left public service to work as a lobbyist for the National Rural Electric Cooperative Association, which represents rural power providers which tend to over-rely on fossil fuels like oil and coal, from 2007 to 2009.
As a board member of the Indian American Republican Council, in April 2009 Chatterjee enthusiastically endorsed fellow Indian-American Bobby Jindal, then governor of Louisiana, calling him, "the future of not just the Republican Party but of this country."
Back on Capitol Hill in 2009, Chatterjee served as a legislative director in the personal office of U.S. Senate Majority Leader Mitch McConnell (R-Kentucky). In December 2009, he became McConnell's policy advisor for energy and agriculture and a year later was promoted to policy advisor for agriculture, energy, environmental and transportation issues. In this role, he took a leading role in fighting any policies that might lead to a reduction in the use of coal, as the coal industry has been a major supporter of Sen. McConnell. He pushed for construction of the Keystone pipeline and opposed Obama administration regulations from the Environmental Protection Agency. In 2016, he warned that if a Republican regained the White House, the United States would withdraw from the Paris climate agreement that President Barack Obama signed, which is exactly what happened when Donald Trump became president.
As a high school student, Chatterjee wrote an admiring essay about McConnell and dreamed of someday working for him. He has called McConnell, "the smartest person I know." McConnell, in turn, has praised Chatterjee as the "Boxer whisperer" because of his ability to communicate with former Democratic Senator Barbara Boxer of California.
Neil Chatterjee is married to Rebecca (Bohon) Chatterjee, whom he met during their junior year of high school and took to the prom, and with whom he has three children: Bo, Anderson, and Lane.
-Matt Bewig, David Wallechinsky
To Learn More:
Trump Now has the Votes to Feed U.S. Fracking Frenzy with New Gas Pipelines (by Stuart Leavenworth, McClatchy)
Statement of Neil Chatterjee Before the Committee on Energy and Natural Resources (pdf)
Neil Chatterjee: Trump's FERC Pick is a Rubber Stamp for Fossil Fuel and Utility Interests (by
Dave Anderson, Energy and Policy Institute)
Meet the McConnell Adviser Determined to Stop the Clean Power Plan (by Catherine Traywick, Bloomberg Government)
McConnell Aide Could Head to FERC in Lame Duck (by Robin Bravender and Hannah Northey, E&E News)