Chairman of the Federal Energy Regulatory Commission: Who Is Norman Bay?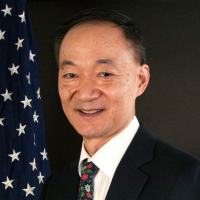 Norman Bay
Norman Bay, a former federal prosecutor, was named to the Federal Energy Regulatory Commission (FERC) in January 2014 and confirmed by the Senate on the following July 15. He took over as chairman in April 2015.
Bay was born October 10, 1960, one of eight children of Chinese immigrants, in Champaign-Urbana, Ill. Bay's father worked for the Air Force and his mother was a chemist who worked for the Department of Energy. Bay moved with his family to Albuquerque, N.M., in 1972 and graduated from Albuquerque Academy in 1978. Bay then went to Dartmouth, where he earned a B.A. in 1982, and to Harvard Law, earning a J.D. in 1986. He then clerked for U.S. appellate Judge Otto Skopil.
Bay began his career in 1989 in the Office of the Legal Adviser in the Department of State. He then moved to the Department of Justice, serving in the U.S. Attorney's office in Washington, D.C., in 1989, handling criminal cases. In 1995, Bay transferred to New Mexico for family reasons and eventually became head of that office's violent crime unit.
Bay was appointed U.S. Attorney for New Mexico, the first Chinese-American U.S. Attorney, in the middle of the Wen Ho Lee classified material case. The government was accused of prosecuting Lee because of his Chinese background and Lee was held without bail for months. Bay helped negotiate the plea deal under which Lee was freed in 2000.
After the George W. Bush administration took over, Bay left the U.S. Attorney's office and became a law professor at the University of New Mexico, teaching criminal and constitutional law.
Bay returned to federal service in 2009 as director of the FERC Office of Enforcement, looking for improper conduct in utility markets. He got J.P. Morgan, Deutsche Bank and other institutions to pay $440 million in penalties for rigging markets.
When Bay was nominated to chair FERC, there was some pushback from the energy industry, which said some investigations by FERC were unfair, and from some senators, who said a FERC employee shouldn't jump to the chairmanship without having served on the commission as a regular member. Bay consequently served as a FERC commissioner from August 2014 to the following April before taking over as chairman.
Bay is married to concert pianist Yuri Chayama.
-Steve Straehley
To Learn More:
Testimony to Senate Energy and Natural Resources Committee