Chief Operating Officer of the Armed Forces Retirement Home: Who Is Timothy Kangas?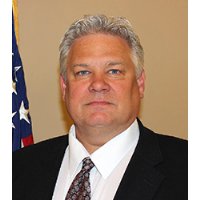 Timothy Kangas
Timothy Kangas has been the head of the Armed Forces Retirement Home (AFRH) since April 18, 2016. An independent agency run by a chief operating officer responsible to the Secretary of Defense, AFRH oversees two retirement communities for veterans in Washington D.C., and Gulfport, Mississippi.
Born circa 1965, Timothy Jon Kangas earned a B.S. in Psychology at Northern Michigan University in 1988, a Masters' of Public Administration in 1990, and a Ph.D. in Public Administration and Public Affairs at Western Michigan University in 2004. His dissertation was entitled, "Child Welfare and Devolving Federalism: An Analysis of the Effects of Federal Funding Schemes on Selected Child Welfare Outcomes in Michigan."
Starting in 1993, Kangas worked for the State of Michigan for over 20 years in several different positions, including 9 years as a combat medic in the Michigan Army National Guard; service as Trauma Coordinator until September 2007, where he led efforts to create Michigan's first statewide all-inclusive trauma system; and as Regional Healthcare Administrator for the Michigan Department of Corrections from 2008 to 2016.
Kangas interrupted his career in Michigan government to serve a one year stint in Iraq as an advisor to a Provisional Reconstruction Team for the State Department in 2007-2008.
Kangas has been active in his local community. He was elected to the City Council in Dewitt, Michigan, for the first time in 2004 and, most recently, in 2010, and served on local boards and commissions, including the DeWitt Area Emergency Services Authority and the De​​Witt Area Recreation Authority.
Kangas served as a congressional aide to Congressman Bob Davis (R-Michigan).
Kangas has made his residence in DeWitt, Michigan, since 2002 with his wife, Debra Jean (Ojala). The couple has three children, Kortney, Ciara and Alec.
-Matt Bewig
To Learn More:
A War with the Defense Department over a Hidden Golf Course (Bonnie Jo Mount, Associated Press)